Strategic Planning in Action
Sarah Sell • Veterans Student Services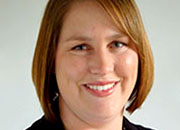 WSU's Military and Veteran Student Center has put a large focus on Strategic Goal No. 5 — empowering students to create a campus culture that meets their needs.
Sarah Sell, director of veteran student services in the Office of Student Success, says military-connected students are a diverse group and their ideal campus experience varies accordingly.
The Office of Student Success worked with trained facilitators to create a comprehensive departmental strategic plan in 2014 that aligned with the university plan. Increasing services for veteran students was identified as a focus area for potential growth and the results achieved have been a result of maintaining focus on these goals.
Sell says gathering veterans' feedback has also been an important goal.
"It was understood at the beginning of the planning process for creating the Veteran Center that student voices must be heard," Sell says. "Therefore, student representatives were given a chance, both formally and informally, to provide feedback and share their needs. We continue to be intentional in listening to student feedback and making adjustments to programs in order to better serve our students."
Additionally, a veterans task force has been formed with representatives from different divisions on campus to provide direction and feedback on growing the services for these students.
Sell said the campus community is starting to see the value of supporting military-connected students and student veterans are finally being offered ways to feel connected to campus. The veteran center averages over 1,200 visits per month, demonstrating that WSU is meeting student needs with the space that has been created.
In addition, Sell reports a more than an 800 percent increase in the membership of the Student Veterans Organization and these students are participating in campus event, intramurals and student government in a way that has not been seen in the past.
There have been challenges along the way. Sell said that it was initially difficult to implement these programs because there was not an existing structure or resources readily available. Out-of-the-box thinking and brainstorming led to new resources and a positive attitude of finding ways to say yes kept the momentum going.
Sell credited the incredible support from faculty and staff who have personal connections to the military, whether they are veterans themselves or have family members who have served for playing a large role in her success.
"There are too many to list, but so many individuals have come forward and donated time and resources to ensure success," Sell said.
---