Strategic Planning in Action
Lyston Skerritt • Fraternity and Sorority Life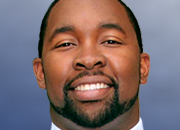 When thinking about strategic planning, Wichita State's Greek community might not be the first thing that leaps to mind. But Lyston Skerritt, assistant director Fraternity and Sorority Life, says the WSU strategic planning process has been vital in improving the student experience at WSU.
"In staff meetings, the question is often posed, 'How is what we are doing driving us to support the accomplishment of the university strategic goals?'," Skerritt said. "We consider how every program, event or training can utilize applied learning or experiential elements. The most important adjustment/improvement has been our assessment of student learning through directly advised students. This has been presented at several faculty symposiums and professional development seminars to create collisions in awareness of student needs and trending behavior."
Skerritt said planning doesn't stop at the top level. His directly advised student groups, including Greek Council, Student Activities Council and Community Service Board, all host and manage their own strategic plans that speak to the office's strategic goals. The review and update of these plans has become a part of the culture, and all groups engage faculty as faculty fellows, committee members and advisory members to create a wealth of information sharing and engagement.
The process has provided clear and definitive direction on the goals with high levels of autonomy to define how projects are executed.
Skerritt says the biggest challenge to the execution of the strategic plan is the duplication of efforts due to silos or perceptions that the accomplishment of goals is the soul responsibility of one department. The need to report that "I am addressing this concern/need" in an annual report, he said, can hinder the ability to think dynamically about the solutions to problems and challenges.
For his strategic planning champions, Skerritt listed Nancy Loosle, director of Student Involvement, as someone who works diligently to create opportunities for collaboration and shared use of resources
"Effectively executing strategic plans require creating a culture of assessment and accountability," Skerritt says, "and under her leadership Student Involvement has become wealth of resources and records on the student experience.
---