Danielle Gabor: 2014 President's Distinguished Service Awardee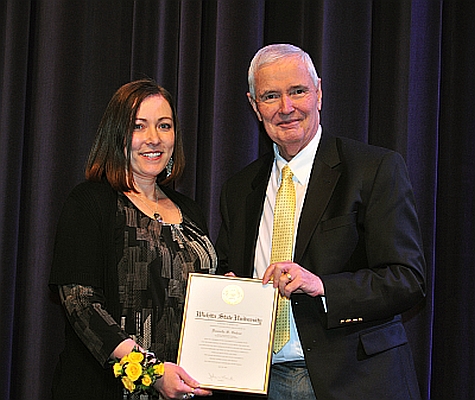 Danielle Gabor, Senior Administrative Assistant
WSU South
Academic Affairs
Receiving the President's Distinguished Service Award from President Bardo on April 30, 2014.
Danielle Gabor has served Wichita State for about 4 years and has been a central pillar of Wichita State University South for the past two years.
As the only full time administrative assistant on staff, Gabor wears many hats. She unlocks the classrooms in preparation for classes, answers questions, and spearheads new initiatives. She helps students learn to use the computers, teaches them about the different classes offered both at WSU South and the main campus, and helps sometimes hesitant individuals grow their resolve to confidently pursue their education. Gabor does all this while performing her day to day administrative duties, and still has coffee and tea ready for weary instructors during breaks between classes.
Her colleagues have taken notice.
"Danielle has brought a personal touch that establishes relationships with students, staff, and faculty alike while maintaining a high level of professionalism," said sociology Professor Deborah Beat.
Story after story from her colleagues has brought to light instances of thoughtfulness and compassion that exemplify Gabor's character.
"She never ceases to impress me by checking on whether we have anything she could help with without having to be asked or just being available to discuss ideas knowing she will give honest feedback in an open and supportive style," said Beat in her nomination of Gabor. "It has been a privilege to work with her and actually develop a more personal relationship with such a kind and giving individual."
Among her many contributions to WSU South, Gabor has successfully spearheaded the creation of a free math tutoring service which she now oversees and an art exhibition hosted by WSU South gearing up for its first showing in June.
Congratulations, Danielle, we are so proud of you!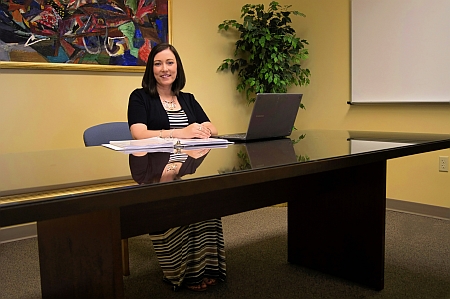 Information on the other 2014 honorees is here.