Elementary Teaching Degree Completion Program
Traditional degree program in a non-traditional Setting:
Finish final two years of elementary teaching degree with late afternoon and evening classes.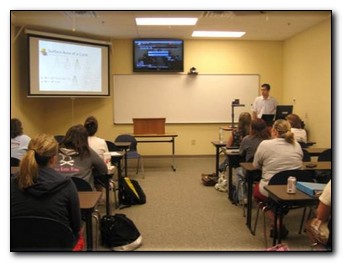 Students taking College of Education classes in our latest state-of-the-art Interactive Distance Learning Facility that allows broadcasting and receiving lectures in high definition to and from offsite locations.
WSU Elementary Teaching Degree Completion Classes at the WSU South
Students who meet the prerequisites and want to pursue an elementary education degree can now complete much of the Wichita State University professional education coursework at WSU South. Courses (see list below) are taught at times and through delivery methods that are convenient to the working adult or stay-at-home parent, with courses typically beginning after 4 p.m. or offered online. Most courses engage students in a field experience (5 -10 hours per week) at an elementary school that must be completed during normal school hours.
This program is perfect for working adults who have limited day-time hours for taking university courses during the day. Transfer students are encouraged to work with a WSU advisor for information regarding program admission.
Students participating in the WSU South Elementary Teaching Degree Completion program:
• Must be admitted into Wichita State University
• Make an appointment with a WSU advisor
• Have a Negative TB test on file
Printable brochure.
Submit Teacher Education Application.
WSU Elementary Teaching classes at WSU South
Please see the program check sheet and an advisor for a full list of required courses and recommended sequence.
Fall Semester
• CI 320 Introduction to Diversity: Exceptionalities
• CI 321 Introduction to Diversity: Cultural Issues
• CI 311 Introduction to Diversity: Field Experience (45 hours in schools]
• CI 750A Physical Science in the Elementary Classroom
Spring Semester
• CI 402E Instructional Strategies, Assessment and Management (ISAM): Elementary Teaching Early Literacy (K-2)
• CI 402J Instructional Strategies, Assessment and Management (ISAM): Elementary Social Studies
• CI 411A Pre-student Teaching Elementary (90 hours in schools]
Fall Semester
• CI 402I Instructional Strategies, Assessment and Management (ISAM): Teaching Intermediate Literacy (3-6]
• CI 402M Instructional Strategies, Assessment and Management (ISAM): Elementary Mathematics
• CI 402S Instructional Strategies, Assessment and Management (ISAM): Elementary Science
• CI 411B Pre-student Teaching Elementary (90 hours in schools)
Courses with an on-line section offered every semester
• CI 317 Literacy Strategies
• CI 427 History, Philosophy and Ethics of Education
Summer course offered at the south campus
• MATH 501 Elementary Mathematics (Take prior to Core 1)
Courses offered in the summer on the main campus
• CI 317 Literacy Strategies
• CI 319 Mathematical Investigations
• CI 324 Linguistics for Elementary Teachers
• CI 427 History, Philosophy and Ethics of Education
Summer courses from other departments typically offered on the main campus
• Arte E 311 Art Education Curriculum in Elementary School
• MUS ED 351 Music Fundamentals for the Classroom Teacher
• HPS 425 Methods in Physical Education and Health
Contacts
For general questions, please call Danielle Gabor at (316)978-8003 or email: danielle.gabor@wichita.edu
For advising enquiries and appointments, please call Sherena Langley at (316)978-3300 or email: sherena.langley@wichita.edu