Page Under Construction -

Please forgive any inconvenience, we are transitioning to a new webpage system. Updates will be completed shortly - thanks.
Aerospace Engineering Labs
The Aerospace Engineering facilities in Wallace Hall, the Wallace Hall Annex, the John Bardo Center, and those shared with the National Institute for Aviation Research (NIAR) rank among the finest in any university. The labs, outlined in the following sections, support both academic and research activities.
3x4-Foot Low Speed Wind Tunnel
WSU has an open-return 3x4-ft low speed wind tunnel. The facility is equipped to measure model loads, pressures, and flow speeds via digital signal conditioning and data acquisition systems. Interestingly, the tunnel also has a long (20-ft plus) 7x10-ft pre-section, which allow for unique lower-speed testing opportunities.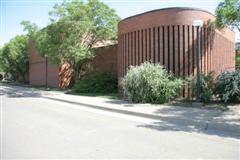 Outside view (inlet, pre-section, and main building) of the the 3x4.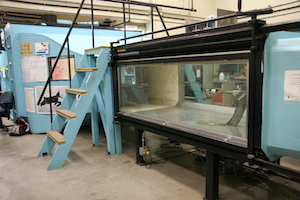 Primary test section of 3x4 tunnel (7x10 pre-section is also shown to the left).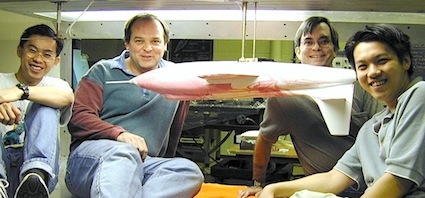 Happy students, with a historic Bell X-1 model (that they made).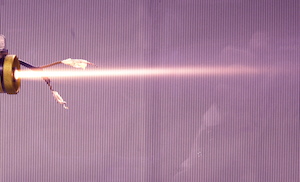 A rocket motor test in the 3x4.

Supersonic Wind Tunnels (SSWTs)
WSU has a 4-inch Mach 2 (~1,400-mph) vacuum-induction wind tunnel and a 9-inch variable Mach 1, 2, 3, or 4 (up to ~2,800-mph) blow-down wind tunnel. Various flow visualization systems are available, along with computer based data acquisition systems for pressure, flow speed, and temperature measurements.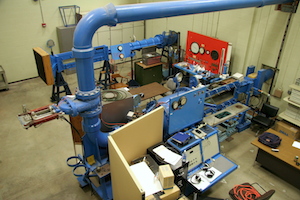 View from above, with Mach 2 tunnel in the background and Mach 4 tunnel in foreground.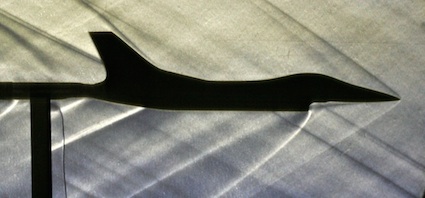 Flow visualization image of a F-16 model in the Mach 2 tunnel (obtained using a Shadowgraph system).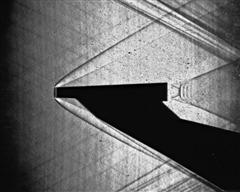 Flow visualization image of an inlet model in the Mach 4 tunnel (obtained using a Schlieren system).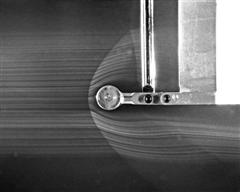 Smoke visualization photo of a cylinder in the Mach 2 wind tunnel.

Water Tunnel
WSU also has a 2x3-ft closed-return water tunnel. This amazing facility offers excellent flow visualization capabilities, typically using dyes.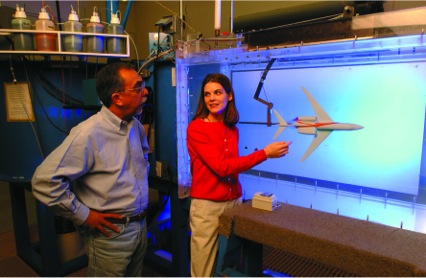 Faculty observing a business jet model in the water tunnel.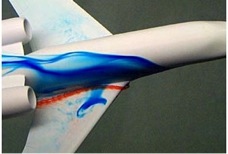 Water tunnel dye flow around the business jet.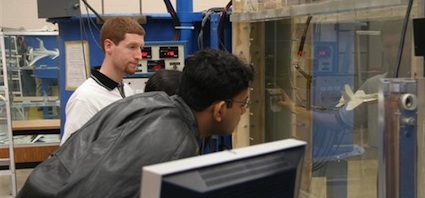 Students studying the flow about a fighter jet in the water tunnel.

Boundary Layer & Water Table Lab
The department also has a 14-inch wind tunnel, designed to study boundary layer behavior, and a 4x8-ft water table. The water table allows for the modeling of two-dimensional and, via the hydraulic analogy, supersonic flows.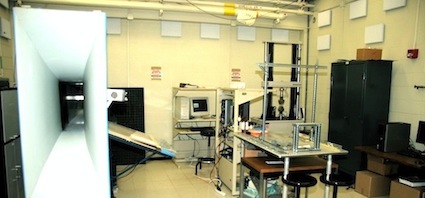 Boundary layer wind tunnel (inlet on the left).

Aerospace Structures
The department's flight structures lab includes three electro-mechanical (MTS) testing machines and a small aircraft testing frame (e.g., a small whiffle-tree test fixture). Load and strain measurements are collected using various sensors, signal conditioning, and digital data systems.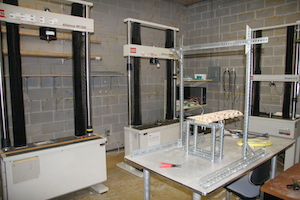 Structures lab MTS machines (during installation).


A student-built wing installed in the small whiffle-tree testing fixture.

Flight Simulation
The department has a very nice flight simulation lab. There are multiple workstations and a large screen simulator. The lab supports multiple courses and many student projects.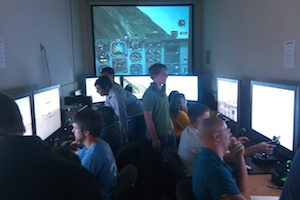 Students working on projects in the flight simulation lab.

Walter Beech Memorial 7x10-ft Low Speed Wind Tunnel (WSU/NIAR)
The Walter H. Beech Memorial Wind Tunnel, with a 7x10-ft test section, is capable of testing at speeds over to 245 mph. A computer system gathers and processes data from several six-component balances, pressure transducers, and hot-film anemometers. Students and faculty regularly test in support of class projects and research. This is an amazing facility. WSU is one of only a few universities in the world with such a wind tunnel!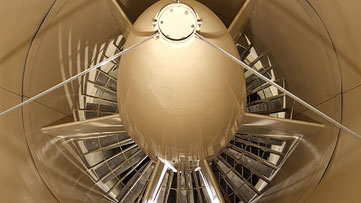 The tunnel drive system (2,500-HP and a 16-blade impeller).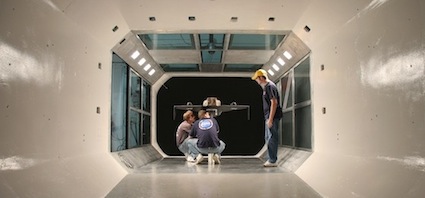 Students working on a senior design project.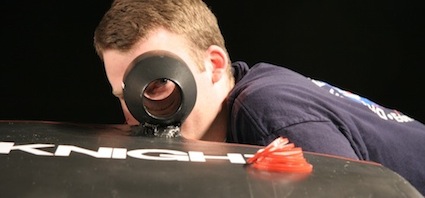 Having some fun!

Composites & Advanced Testing (WSU/NIAR)
A structural testing lab for dynamic and static testing contains MTS testing machines with hydraulic grips and programmable capabilities. Environmental chambers allow for testing at a variety of temperatures and humidities. Students have hands-on opportunities with equipment in many of the laboratories.

A full-scale aircraft in preparation for structural testing.

New Department Labs
With completion of a new Experiential Engineering building, in 2017, the department will bring online even more labs, including the following:
Projects & prototyping
Aerospace structures
Astronautics
Propulsion
Flight simulation
Controls (jointly with Electrical Engineering)
New college labs are also planned. The following will support all students in their academic and collaborative endeavors:
The Innovation hub - a light machine shop (3D printing, laser cutting, etc.)
A heavy machine shop (mills, lathes, etc.)
Computational labs (workstations, advanced software, etc.)
Electronics lab (circuit, system prototyping & assembly, etc.)
The future looks bright!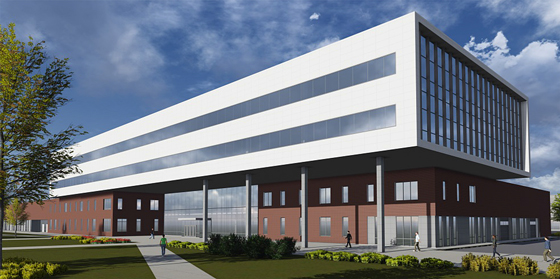 Artist drawing of the new Experiential Engineering building (ready to use in 2016).