Engineering Technology News
Students solve global issues at Invent for the Planet

Fourteen universities from around the globe competed in the first successful pilot for Invent for the Planet, an event that encouraged students to tackle important global problems.

Wichita State hosted the local portion of the competition -- in conjunction with the regional University Innovation Fellows meetup -- with 41 participants, representing WSU, Butler Community College, Wichita East High School, University of Tulsa, Colorado School of Mines, William Jewell College (Missouri) and Susquehanna University (Pennsylvania).

Gary Brooking, WSU director of engineering technology, was part of the organization team and led the local event.

The winning team was "Project Inspire." Their need was to "allow study in the evenings," and their solution involved a system for recycling used phones and adding simple apps and content development to allow for easy reference material, note taking and studying applications for low- or no-light environments.

ET program welcomes Lincoln Schroeder as the new mechatronics faculty member

ET program welcomes Lincoln Schroeder who has recently retired from the Air Force after serving 22 years.
During his military service, he has had over sixteen years of cybersecurity experience where he led teams of highly-demanded cybersecurity experts, managed cybersecurity programs as well as taught numerous cybersecurity seminars. He is a Certified Information System Security Professional (CISSP) which is awarded through the International Information System Security Certification Consortium (ISC)2. The CISSP is an objective measure of excellence and is the most globally recognized standard of achievement in the cybersecurity industry surpassing the strict conditions of ISO/IEC Standard 17024.
Lincoln has a unique knowledge of both applied and theoretical cybersecurity with a passion for teaching and we believe he will be a critical asset in developing and teaching our new cybersecurity courses.
Kara McClusky was awared the Shocker Innovation Corps Mentor Award.
This is for faculty acting as academic leads are an essential component to the success of the teams in Shocker Innovation Corps, a National Science Foundation program. Kara McKlusky, engineering educator for the College of Engineering, has served as the academic lead for multiple teams and regularly promotes Shocker Innovation Corps and encourages students to learn about and apply to participate in the program.
Austin Nordyke was awarded the Engineering Bright Future Award.
Austin Nordyke, junior in Engineering Technology, is the team lead for the WSU Koch Innovation Challenge team "Out Cold," which invented a customizable pillow to reduce sleep discomfort. Nordyke's team won the grand champion award is advancing to a national level competition. Nordyke was also recently selected for the American FFA Degree. This award requires the recipient to have earned and productively invested $10,000 through a supervised agricultural experience program in which they start, own or hold a professional position. Austin is an entrepreneur, inventor, co-collaborator and top student
Gary Brooking was awarded the Ambassador Award.
This award is given to individuals and departments that embrace the Innovation University concept and reach beyond departmental boundaries to develop interdisciplinary relationships critical to successful innovation. He is involved in interdisciplinary ventures such as being a mentoring and advising for the Shocker Startup student entrepreneurship organization, facilitating for Shocker Innovation Corps and judging the Koch Innovation Challenge. He routinely works with the Center for Entrepreneurship to bring startup programs and ideas to campus.
---
Dr. Perlekar Tamtam receives KEEN mini-grant
| | |
| --- | --- |
| | April 28, 2017: Congratulations to Dr. Tamtam for being selected to receive an Integrated e-Learning Modules Mini-Grant to deploy Building, Sustaining, and Leading Effective Teams and Establishing Performance Goals e-Learning module in his course. |
Engineering Technology to offer Civil Engineering Technology and Cybersecurity concentrations
---
The ET program has been approved to offer new concentrations as civil engineering technology and cybersecurity starting Fall 2017 semester. These new programs are expected to satisfy growing needs for job ready graduates in south central Kansas region and beyond. For program sequence sheets and details, please visit Civil Engineering Technology and Cybersecurity pages.
Engineering Technology to offer hybrid online version of the Engineering Technology Management concentration
---
The ET program will be the first to offer a hybrid online program within the College of Engineering at WSU. The Engineering Technology Management (ETM) concentration is redesigned to satisfy the needs of working professionals and others interested in online/hybrid degree options. Starting Fall 2017, most of the ETM courses will be offered as fully online or blended courses.
Ms. Kara McCluskey Selected as Recruitment Faculty Fellow
---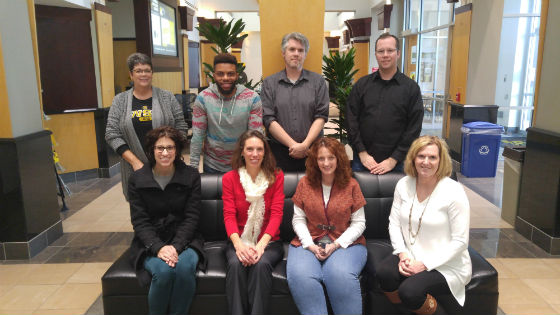 Congratulations to Ms. McCluskey for being selected as a recruitment faculty fellow. As noted by the Academic Affairs office, "The fellows have partnered with the Office of Admissions to engage in recruitment activities on multiple fronts, provide feedback about admissions activities, and serve as communication conduits between the admissions team and each of their respective academic colleges.
Dr. Deepak Gupta receives $587,500 sub-award from US Department of Energy to establish a satellite IAC center at WSU
---
December 14, 2016: Dr. Deepak Gupta receives an award to establish a new satellite Industrial Assessment Center (IAC) at WSU. The center will work with University of Missouri, Columbia, MO and help small- and medium-sized manufacturing companies reduce their energy costs while training the next generation of energy savvy engineers. Ms. Kara McCluskey and Dr. Perlekar Tamtam will serve as assistant directors for this center. For more information about the award, please visit USDOE page.
Engineering Technology program receives initial ABET accreditation
---
August 31, 2016: The ET program is now accredited by ABET. This is great achievement for students, faculty, staff, and everyone else involved with this process. The accreditation extends retroactively from October 1, 2014.
Engineering Technology students receive "IIE - Best Undergraduate Project" award and third place award for "SME Student Chapter - Best Project"
---
May 8, 2015: ET student teams participated in the Engineering Open House in Spring 2015.
May 9, 2015: The team with Rogelio Fernandez, Peter Koyainis, and Nakul Patel won the "IIE - Best Undergraduate Project" award offered through the Institute of Industrial Engineers (IIE). They also received third place award for "SME Student Chapter - Best Project" from the Society of Manufacturing Engineers. Congratulation!
Engineering Technology partners with Westar Energy and University United Methodist Church to install a 10-kW solar system
---
April 22, 2015: The ET program at WSU and University United Methodist Church dedicated the new 10-kW solar panel on the 2015 Earth Day. The project was funded through the Westar Energy's Solar Photovoltaic Project and is expected to provide hands-on opportunities to students at WSU and other k-12 schools in the region. For other news coverage, please visit Video and Wichita State News page.