Graduate student: project option
Shae Blevins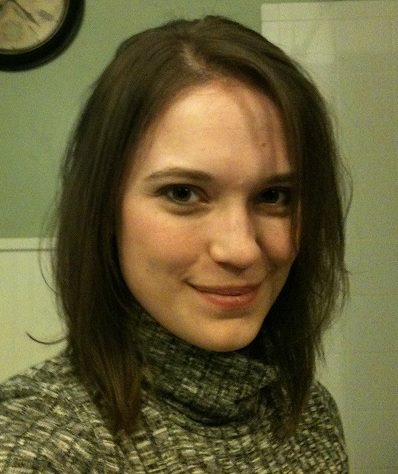 Wichita, Kan.
M.A. in Communication from Wichita State University
B.A. in Communication from Wichita State University
Marketing Specialist at Fidelity Bank
What made you decide to go the project route?
During graduate school, I had an in-between choice to make - Do I apply for a Ph.D. program at the University of Kansas, or do I leave school for good and find a job? Luckily, I found a job, and that decision was made for me and I am so thankful for it. I was burnt out on textbooks and assignments and I wanted to go into the real world. I chose to do a project instead of writing a thesis for that reason. I wanted to create something that would be more beneficial for my real world career.
How did this route benefit your graduate studies?
The project route benefited my graduate studies in that I was able to apply all of the research knowledge I had gained in graduate school to my project. If it hadn't been for qualitative and quantitative research courses, I would not be as comfortable with the end project I created. I'm sure it would be the same with a thesis, but, with a project, I had more creative freedom to create something I could not only be proud of, but that might also affect the decisions of University administration. I believe my project experience also gave me more a voice for the future of the research project I was working on.

What project did you choose and why?
During my first semester of my second year of graduate school, I took a course in Public Health Communication with Dr. Deborah Ballard-Reisch. We looked at several public health topics but decided to focus on food security and hunger at the college campus level. I was deeply passionate about feeding the hungry, but, before this course, I didn't know how to apply that passion to the real world. I worked with a team of eight students and Deborah as well as local and state organizations. We created the first WSU Hunger Awareness Day and attempted to create a campus-wide initiative to research food security and hunger on college campuses (students, faculty, staff, etc.). My graduate project during the next semester focused on getting campus-wide support for several food security and hunger initiative, such as creating a Campus Kitchens Project chapter at WSU, larger campus gardens, a campus food bank and more information about food security and hunger through the Counseling and Testing Center. Because I graduated, I might not see the initiatives come to fruition, and they might never come to fruition. But I know that Deborah is deeply passionate about this topic, too, and she plans to take my proposal to the University in hopes of convincing them that the initiatives can help the hungry on our own campus and eventually in the community.