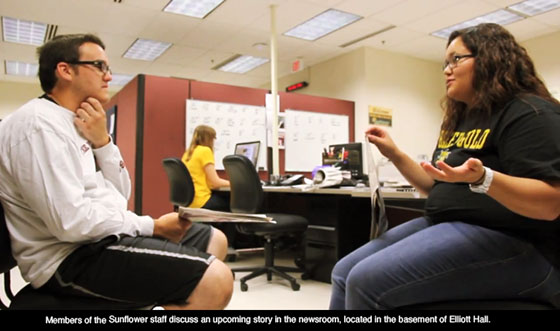 Provides students with the academic background and professional skills for a successful career in any news-related industry. Our integrated program teaches about storytelling and the ever-changing role that today's professional experiences. Writing, editing, photography, video, design and presentation for mass audiences are stressed. Journalism majors study law, ethics, research and media theory. Students will understand what it is like to be a reporter, editor, photographer or producer — plus get the hands-on experience of working in a team environment. Students majoring in Journalism are encouraged to gain hands-on experience by working in Studio B as well as on The Sunflower newspaper staff.
All students majoring in Communication must complete the Communication core courses.
ADDITIONAL REQUIREMENTS FOR JOURNALISM MAJORS
401 – (3) Reporting the News (COMM 301, either 305 or 306)
510 – (2) Editing for Print (COMM 301)
512 – (2) Principles of Video Production (COMM 301, 305, 306)
PLUS CHOOSE ONE OF THE FOLLOWING:
500 – (3) Advanced News and Feature Writing (COMM 401)
622 – (3) Live TV News (COMM 401)
PLUS 12 CREDIT HOURS OF JOURNALISM-APPROVED ELECTIVES.
SAMPLE JOB TITLES
| | |
| --- | --- |
| News or Features Reporter | Web Site Writer/Editor |
| News/Weather/Sports Anchor | Beat or Investigative Reporter |
| Magazine Writer/Editor | TV/Radio Writer |
| Sports or Business Reporter | Digital Video/Sound Editor |
| Program/News Director | Consumer/Health Reporter |
| Radio Announcer/Personality | Field/Studio Producer |
| Copy Editor/Copy Chief | Master Control/Engineer |
| Videographer | |