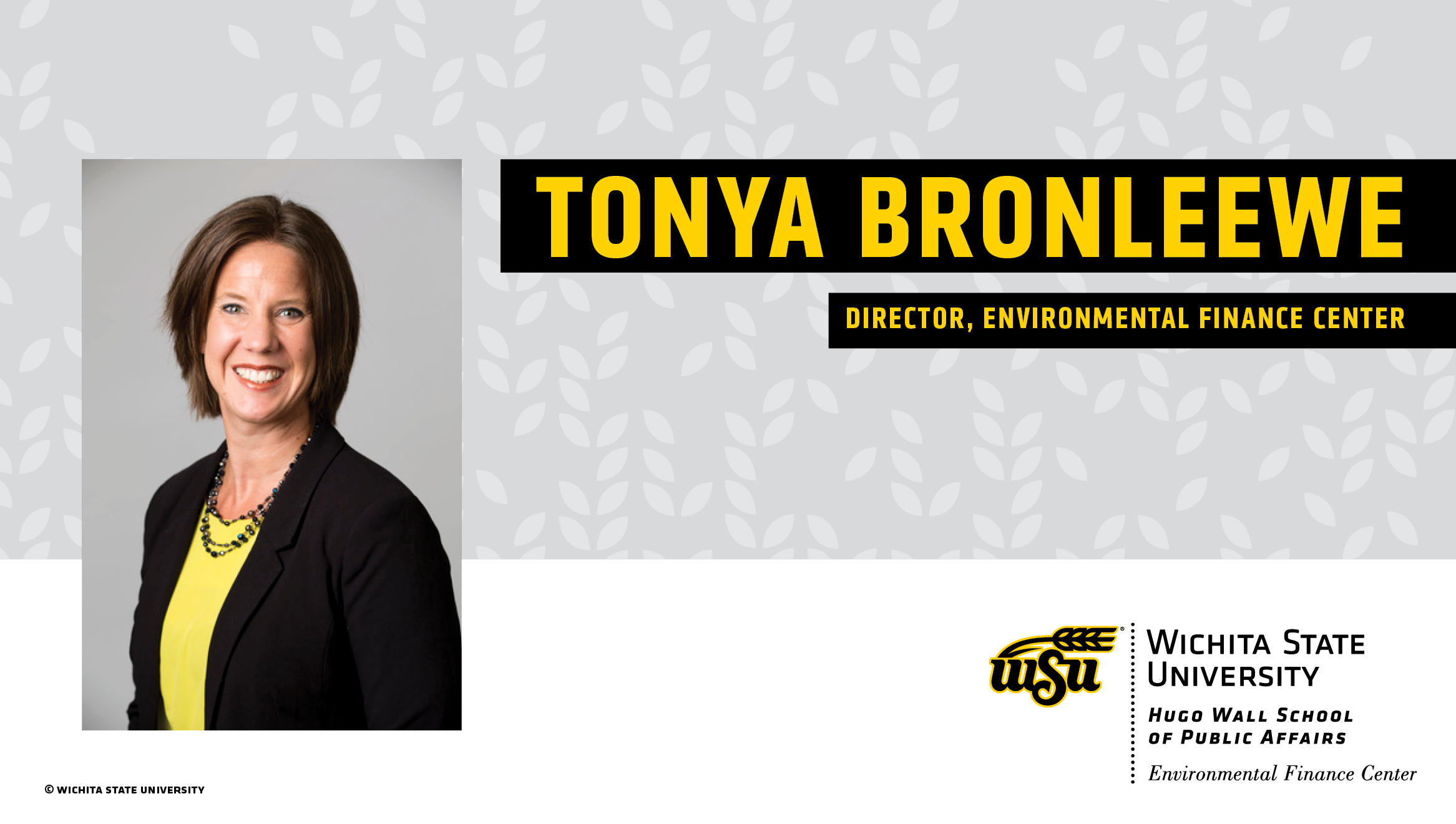 The Wichita State University Environmental Finance Center is proud to announce that Tonya Bronleewe has been selected as the new director.
Tonya's expertise in air and water quality, and her passion for educating public officials, community members and young people about important environmental issues, displays her enthusiasm and commitment to her role at Wichita State University and in the community.
Bronleewe served as a program manager at the Environmental Finance Center since 2015. She managed environmental grants and projects during a period of growth for the center that brought in more than $2 million in external funding.
One of Tonya's favorite grants that she procured and leads is an EPA Environmental Education Grant called, "Work in Water." The project aims to increase young people's knowledge of the importance of water treatment for the environment and public health and to stimulate interest in public water occupations.
Prior to joining the Environmental Finance Center, Tonya worked at City of Wichita as an air quality specialist and at K-State Research and Extension as a natural resources extension agent. A proud Shocker and Wichita native, Tonya is highly active in the community, leading volunteer work like the Arkansas River Trash Roundup, Wichita's g2gOutside program and Passport to Nature fundraisers. She also serves as the president-elect on the Friends of the Great Plains Nature Center board.
"I am excited to continue the EFC's meaningful work and find new ways to grow our center," said Bronleewe. "We are a great team that is committed to helping communities, organizations and businesses tackle environmental finance challenges. Today, our work may be more important than ever. The planning and decision-making tools, technical assistance and professional development that we provide can help communities take the next steps in their recovery and revitalization process."
---
About the WSU Environmental Finance Center
The Environmental Finance Center (EFC), part of the Hugo Wall School of Public Affairs, is one of 10 Environmental Finance Centers across the country that provide communities with professional training, technical assistance and applied research to bolster efforts to manage the rising costs of environmental protection for the public.
The WSU EFC works with state and local government to strengthen the financial, managerial and technical capacity of decision-makers. The center works on a broad range of public health and environmental topics, including drinking water, water reclamation, stormwater management, indoor/outdoor air quality and sustainable food systems.
The EFC works collaboratively with EPA, state regulatory agencies, local municipalities, tribal governments, universities, nonprofits and businesses on a vast range of environmental topics and projects, with a focus on serving communities in EPA Region 7 (Kansas, Missouri, Iowa and Nebraska).