Painting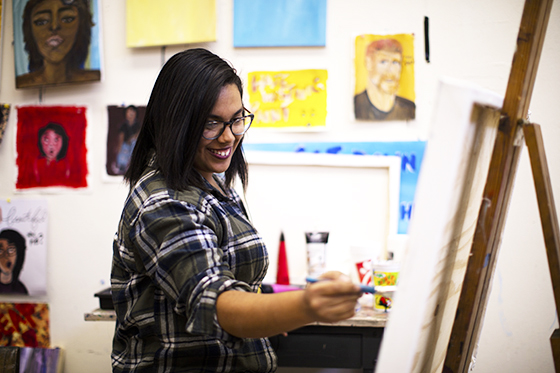 Putting it all on the canvas.
From abstraction or realism, painting offers endless expressive and conceptual possibilities. Pursuing a BFA or BA in painting is a demanding but a highly rewarding academic and career path. ADCI's painting program requires intensive studio work. Dedicated students will have a command of art history, theory and maintain an awareness of contemporary art practices. Mastering of technical paintings skills is important, but so is experimentation and interdisciplinarity. Take creative risks. Unleash your creative potential. Make the unreal real and let your best ideas come to life.
Meet our extraordinary faculty.
While the restoration of Joan Miró's monumental mosaic Personnages Oiseaux was taking place, associate professor of painting and drawing Levente Sulyok created Small Pleasures (2012-2016) for the façade of the Ulrich Museum of Art. Sulyok's installation consists of a billboard-sized banner, a small waterproof display case mounted in the middle of the banner and a telescope installed across the street for the viewing of works displayed in the case. Artworks displayed in the 'mini gallery' were selected from a pool of submissions.
The rotating bi-monthly selection for the mini-gallery was made by professional artists, art historians, educators, critics and curators. Each 'juror' will be responsible for designating the next juror as well as the artwork selection. This curatorial approach is designed to be as open and democratic as possible while ensuring quality in the selection process. An archived of the "mini gallery" with jurors' statements can be found at: smallpleasures.org