Studio Art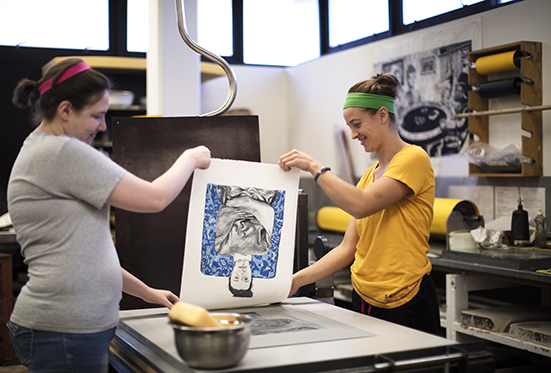 Make art & design your business.
The allure of paint glistening on the canvas, the satisfying click of the camera shutter, the raspy scratch of pencil on paper—these are the moments artists love. BFA and BA degrees in Studio Art offer a unique intersection of Applied Drawing, Painting, Photo Media and Print Media with an ultra-contemporary focus. Large studio spaces, exhibition venues and new technology are at your fingertips. With the freedom to explore and experiment, now is the time to unleash your creativity.
If your art leaps off the page, then explore a Studio Art degree in Ceramics Media, Sculpture Media, Electronic Media or Community & Social Practice. Whether building a large-scale public sculpture, executing an ambitious gallery installation, creating performance pieces or collaborating on a community art project, the extensive facilities and dedicated faculty at ADCI will help you realize your creative vision. Push the limits of your creativity and make the world a more engaging and exceptional place.
Choose from the following concentrations:



If you are interested in pursuing an MFA in Studio Art click here.