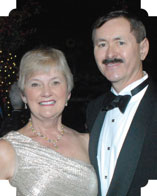 Ann and Dennis Ross
Ann and Dennis Ross are well known for their appreciation, passion, and long-time support of three things – their church, church related music (particularly music for the organ), and opera. Wichita and Wichita State have benefited significantly from these passions.
Born and raised in rural Nebraska, both Ann and Dennis derived their work-ethic and their commitment to community service from the values instilled in them growing up. Ann became a nurse, and Dennis became a specialist in nephrology, becoming a leader in his field.
In 2005, the Rosses established the very first Faculty Chair of Distinction in the College of Fine Arts. This chair was in organ. Three years ago, the Ann & Dennis Ross Faculty of Distinction in opera was announced. It was this position that drew internationally renowned bass-baritone Alan Held to Wichita State.
This was a natural transition for them because the Rosses have supported Wichita Grand Opera for many years, with Dennis sitting on the board as Chairman Emeritus. At Wichita State, the Rosses have supported a variety of music programs. They were generous supporters of the effort several years ago to bring Samuel Ramey to WSU through establishment of a guest artist-in-residence program. Additionally, Ann and Dennis have established student scholarships related to these disciplines.
Ann and Dennis have the distinction of being among the top philanthropic leaders for music in this community. To quote Ann Ross, "You should try to serve God and you should try to serve your fellow man," she said. "There are two ways to serve your fellow man. You can preserve life, and you can preserve the quality of life. Music is one way we can help preserve the quality of life."