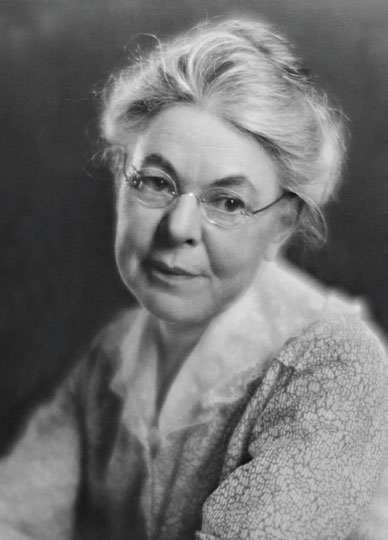 Elizabeth Sprague
(1862 – 1936)
From 1901 to 1936, Elizabeth Sprague was the first chair of the art department at Fairmount College, now Wichita State University. She was living in Boston, Massachusetts when she was recruited by Fairmount College President Nathan J. Morrison. He may have met her while traveling to Boston to raise funds for Fairmount College.
Miss Sprague came to Wichita with experience teaching art in Michigan and an art degree from the Massachusetts School of Art. She was in her late 30's when she joined the faculty in Wichita. As an artist in her own right, she typically painted still lifes and landscapes inspired by what she saw in Kansas and Colorado, where she often spent vacations. Flowers were a favorite subject. Petunias , circa 1930, is owned by the Wichita Art Museum, a gift of George Volmer.
In 1935, as she neared her retirement year, praise was printed in the Wichita Eagle about Miss Sprague which was written by Victor Murdock, nephew of Roland F. and Louise Caldwell Murdock. He wrote that Miss Sprague's descent from colonial Bostonians—with their commitment to representative government and to community service—instilled in her an almost missionary zeal to improve the lives of her fellow citizens.
Miss Sprague has been identified as belonging to a group of leading women who laid the foundation for a thriving visual arts culture in Wichita. This group included Louise Caldwell Murdock, (her bequest established the American art collection for the Wichita Art Museum), Maude C. Schollenberger (founding director of the Wichita Art Association) and Elsie Allen, who commissioned architect Frank Lloyd Wright to design one of his famed prairie style homes in College Hill known as the Allen-Lambe house. Miss Sprague brought the design principles of the Arts and Crafts movement to the American plains and along with these important women, was a pioneer for the visual arts in Wichita.