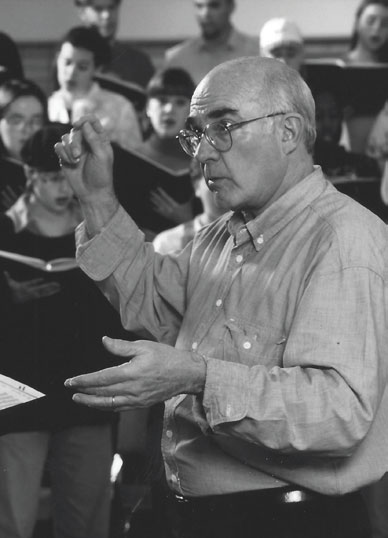 Harrison (Bud) Boughton
Harrison Boughton was professor and director of choral music at Wichita State for 39 years. His groups appeared at numerous state, regional and national music conventions including Kansas Music Educators Association, Music Educators National Conference, American Choral Directors Association, and Music Teachers National Association. Boughton made several extensive tours of Europe and South America with these groups. After graduating from the University of Iowa, he taught public school music in Iowa and voice and choral music at William Jewell College and Evansville University before coming to WSU.
During his career, he served as guest conductor, clinician and adjudicator throughout the U.S. as well as at the Austrian Choral Directors Association in 1981. In 1985, he was recipient of the Harry Robert Wilson Award in recognition of his contribution to choral music in Kansas. In 1991 and 1999, the WSU chapter of Mortar Board recognized him for "outstanding inspiration and student support." He also received the Alumni Award for professional achievement from his alma mater, the University of Iowa, in 1995. In 1996, he was presented with the Wichita State University President's Award for Extraordinary Achievement, and in 1997 he was candidate for distinguished professorship.
Boughton forged an inspiring legacy during his time on the music faculty at WSU, serving 22 years as chair of the voice/choral program and recruiting an array of students who achieved national and international acclaim, including Samuel Ramey, Joyce DiDonato, Alan Held, Karla Burns, and many others.
"I've been extremely blessed," he said. "I have worked with thousands of students since 1961 who have gone on to teach, perform or appreciate choral music, and I hope that I've played some part in enriching their lives artistically, socially and spiritually."