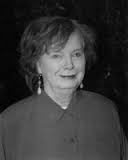 Joyce Cavarozzi
In her long professional career, Joyce Cavarozzi directed more than 110 productions and designed costumes for more than 150, most as a member of the Theatre faculty at Wichita State University. She has also performed on stage, on television, and in several movies, such as The Attic and Twister
With a special interest in Shakespeare and contemporary theater, Joyce was a moving force in the performing arts in Wichita for five decades.
She is a graduate of Ohio University and Ohio State University.
Many of her students have received national college theater attention, and she has had more than three dozen students nominated for the Irene Ryan acting award. At WSU, she was president of the faculty senate and received the President's Award for Distinguished Service. In addition, she was inducted into the Mary Jean Teall Theatre Hall of Fame and is member of the WSU Foundation Society of 1895.
However, her influence has reached far beyond Wichita. She received the Kennedy Center American College Theater Festival Gold Medallion for Excellence in Theatre and the Meritorious Achievement Award in costume design. Her excellent work with the Kennedy Center American College Theatre Festival, including a term as Regional Chair, made the University Theatre recognized nationally.
She is past president of the WSU Faculty Senate, a member of the WSU Foundation's Society of 1895, and has been honored with a brick in the Plaza of Heroines. Joyce Received the Kennedy Center Gold Medallion for educational theatre, as well as their Commendation for Excellence, Yet her real award -she says-are her students.
Perhaps her most fervent enthusiasm has been, ultimately, for the total art of Theatre. A talented, sensitive actor herself, she preached the gospel of theatre as the most human of the arts to any audience who will hear. She is still active in theatre through National Partners of American Theatre. Her namesake Scholarship in Theatre is awarded every year to a full-time student in the School of Performing Arts.