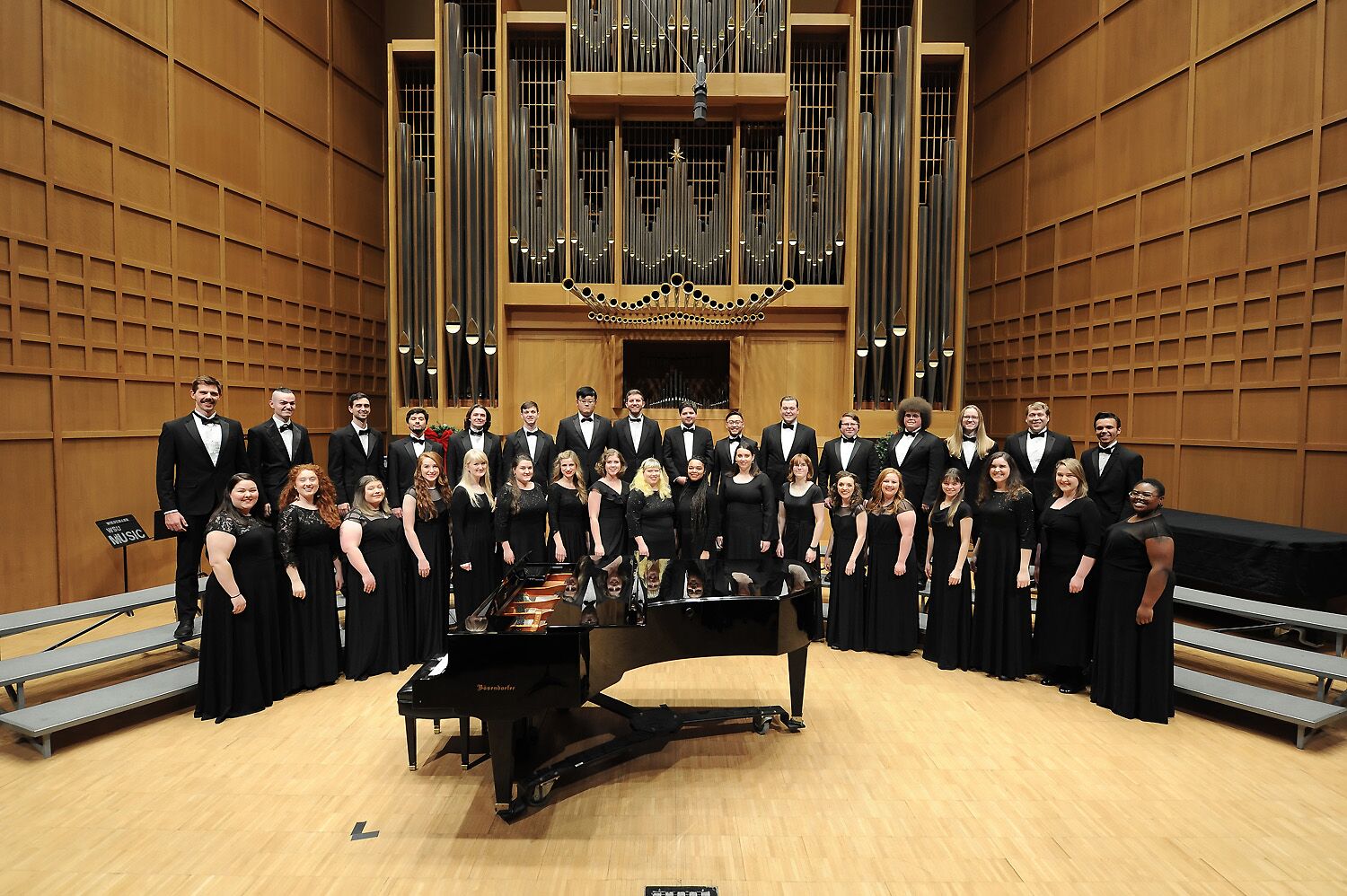 About Concert Chorale
The Wichita State University Concert Chorale is the premiere choral ensemble at Wichita State University. The Chorale is a highly-selective, auditioned choir open to all WSU students, regardless of major. The choir specializes in the performance of a wide variety of significant choral literature from the Renaissance through the twenty-first century.
The Chorale combines annually with other WSU choirs to present the annual Candlelight Christmas Concert. It also combines with A Cappella Choir and the WSU Symphony Orchestra for the spring oratorio, past performances of which have included Durufle's Requiem and Bernstein's Chichester Psalms, which were performed under the direction of Robert Shaw during one of his guest residencies at WSU. The ensemble has also performed Poulenc's Gloria under the baton of Craig Jessop, former director of the Mormon Tabernacle Choir. The Chorale and other WSU choirs performed with internationally acclaimed operatic artist and WSU alumnus Samuel Ramey in his appearance in Wichita in 2001. The Chorale joined forces in 2003 with celebrated organ virtuoso Stephen Tharp, who accompanied the Chorale on the university's world-class Marcussen Organ.
The Chorale has a rich history of notable conductors, including Harold Decker, Harrison "Bud" Boughton, René Clausen, and most recently, Robert Glasmann. In the fall of 2012, Michael Hanawalt assumed directorship of the ensemble.
Conductor
Dr. Ryan Beeken
Director of Choral Activities
Wichita State University
Course Details
Meets (rehearses) 12:30pm-1:20pm MTWR, Wiedemann Concert Hall
Course numbers: MUSP 213F, 413F, 713F
Satisfies large ensemble requirement for music majors
Auditions
Open to all Wichita State University students
A two-semester commitment is required for membership
Auditions held during the first two days of classes during fall semester
Auditions consist of sight-singing, pitch memory, and vocalizes
Click here for audition information
Contact Concert Chorale
For more information about Concert Chorale, please email Ryan Beeken.