A Letter from WSU President John Bardo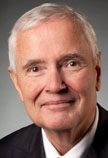 Dear Kansas College Student,
Thank you for your interest in Wichita State University. I hope you will join other students who have transferred to our campus to major in one of our 150-plus areas of study.
Wichita State provides remarkable opportunities for students to incorporate their classroom knowledge in actual work settings. The University's Cooperative Education and Work-Based Learning Program for example, is among the largest in the nation, and there is a reason – success! Students and employers alike testify extensively and enthusiastically about Co-op's benefits. The recent development of the WSU Innovation campus will open up many additional student opportunities.
Located within our area are thousands of employers who conduct business all over the world. They need educated personnel, and WSU is one of the first places they look. This helps explain the excellent employment record of our graduates.
We all understand the need for an education that sharpens our appreciation for life's possibilities. I believe Wichita State encourages values leading to a full life, one where learning never ceases.
Respectfully,
John W. Bardo
President