Unpaid Adjunct / Non -Employee
The department needs to complete an OHR300/Appointment Notice for these individuals. They would need at least one signature on the form for example budget review officer or supervisor. (Who has authorized them to be on campus?) Note in the salary section there is $0.00 pay. The form then is sent/delivered to HR (Budget does not see the form as no position # is assigned).
Once received, HR needs the following 5 pieces of information to set the person up in PPAIDEN and PEAEMPL:
Date of Birth
Social Security Number
Citizen – Yes or No answer
Marital Status
Ethnicity
This allows HR to establish a myWSU ID number for the person.
The individual would need to pick up the Wichita State University Parking Registration Form (green sheet) that allows them to take the lower ¾ section of the form to the Shocker Card Center to get their ID card.
Based on the "Label Code" of NE (non-employee), they are assigned an "Associate" card. This gives them privileges to use the Library and the Heskett Center. The Heskett Center's fee for an "Associate" is $36.00 for fall semester or $100 for a year.
Persons in this category have to park at the Metroplex and ride the shuttle bus to campus; they cannot be assigned a parking hang tag as there is a payroll deduction required.
---
Who to contact:
Talent Acquisition Team
employment@wichita.edu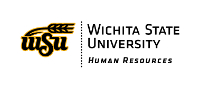 Reviewed: 01/09/17 JW
Revised: 03/27/2018 DC