WSU has implemented a NEW VPN. Update VPN on remote devices now.

The old Cisco VPN had limited concurrent sessions available. The new VPN allows for more sessions. Please update your remote devices to the new VPN as soon as possible. Instructions are listed below.
Creating a VPN Session is NOT required for several WSU Applications. For example the following DO NOT require VPN: Blackboard, myWSU, Skype, TEAMs, Microsoft Office 365, Employee Dashboard, Banner Self Service.
VPN Session is REQUIRED for the following: access a work computer located on campus, online Avaya Voicemail access, WSU shared drives, Reporting Services, WSU Reporting, and Banner 9 (PROD).
Please Note: If you have not used Remote Desktop previously, your work computer must be set up to connect remotely. Please Submit a ticket for Remote Desktop access or click here for instructions on submitting a ticket. Contact the ITS Technology Help Desk at (316) 978-4357, option 1 for assistance.
Apple Off Campus Computer: VPN Setup & Access
Set up VPN
Go to: vpn2.wichita.edu
Log in with your WSU ID and password

Select Download Mac 32/64 bit GlobalProtect agent.

A GlobalProtect installer package will open. Press OK.

The Installer will launch. Press Continue several times, until you come to the final installation page, and the button reads Install.

Press Install.

Enter your password when prompted and press Install Software.

If you receive the message System Extension Blocked, select Open Security Preferences.

Next to "System software from developer 'Palo Alto Networks' was blocked…" Press Allow. Close the Security & Privacy Settings screen.

Once installed, you will receive a message that the installation was successful. Press Close.


You can access GlobalProtect from its globe icon in the upper right of your menu. Click on the globe to continue setting up.

Portal Address: Enter vpn2.wichita.edu then press Connect.

When prompted, enter with your WSUID and Password. Press Sign In.

Day to Day Use
In the future, when you would like to connect, select the Global Protect icon from the upper right menu.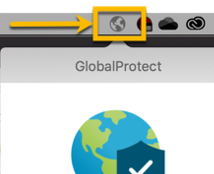 Press Connect. You will be connected to the VPN with the settings you originally entered.

To Disconnect, select the Global Connect icon, and press Disconnect.


Contact ITS Help Desk with any issues at (316) 978-4357, option 1 for assistance.
Old Cisco VPN can be found here: