OneDrive: Access Your Files Anywhere
OneDrive is a file hosting service that Microsoft offers along with 365 subscriptions. In addition to storage, users may also collaborate with others by storing files in OneDrive and sharing them with other users. Often people will colloquially refer to OneDrive as Microsoft 365, though technically 365 includes a suite of online and desktop programs. OneDrive is also a great way to maintain access to files on all your devices.
Video
For a quick introduction to OneDrive, watch below for a video from the Academic Resources conference. Read on for written instructions.
Log in to Your OneDrive
To access OneDrive and your Microsoft 365 account through myWSU:
Log in to myWSU
In the upper right, select Office365

You may be prompted to log in again. Pay attention to any instructions on the screen. You may need to log in using:
Username: your myWSU@wichita.edu (e.g. A123Z987@wichita.edu)
Your myWSU ID password
Direct Link
To log in through a direct link:
Go to: o365.wichita.edu
Log in:

Username: your myWSU@wichita.edu (e.g. A123Z987@wichita.edu)
Your myWSU ID password


In both instances, the icon is a cloud labeled OneDrive.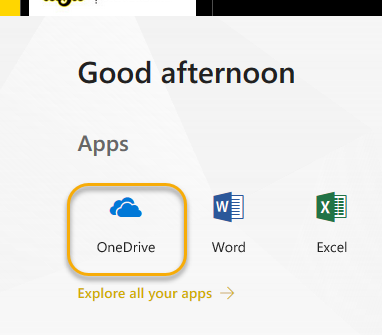 Using OneDrive
We would love to see you in an upcoming OneDrive Essentials training session (visit myTraining for times)! We cover all the ins and outs of creating files, organizing files, and filecollaboration. Here are a couple tips to get you started.
The menus in OneDrive change depending on what you have selected. Th default view shows the ability to create new documents with the online version of Microsoft Office apps, or upload existing files.

Uploading Files
To upload an existing file or folder, select Upload and choose an option.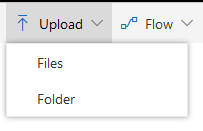 Another way to upload files is simple to drag and drop them into the Files pane on the OneDrive page.
Menu Appearance
Click on a radio button to the left of an item in OneDrive. Notice how the upper menu changes.

A lot of these features may also be accessed by right clicking on top of a document or clicking on the ellipses to the right of the document name.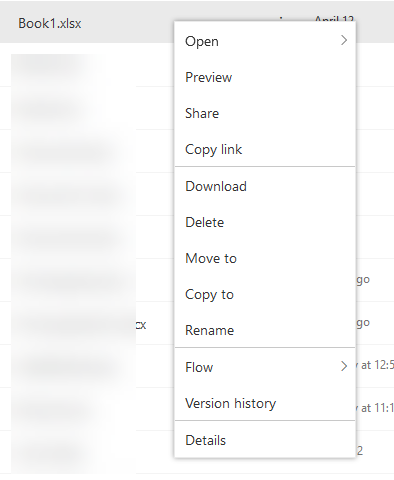 Options include the ability to:

Share (collaboration)
Copy Link
Download
Delete
Move or Copy to another location
Rename
View Version History
OneDrive Apps
Once you start utilizing OneDrive, you will find there are numerous ways to access your files. Apps are available for tablets, cell phones, and also your computer. Computer apps are particularly handy, as you will have access to a folder on your desktop that behaves much like any other folder on your computer. This means you won't have to log in through myWSU every time you need to access your documents.
To download the Apps, select the Get OneDrive Apps link in the lower left of the screen in OneDrive.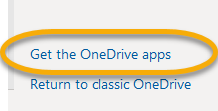 The OneDrive folder will live among the other folders on your computer and syncs regularly with the cloud.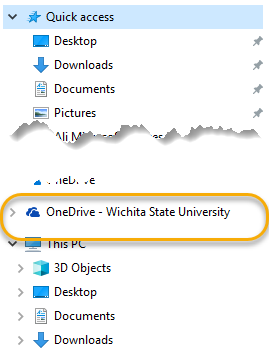 FERPA
FERPA is the federal law designed to protect the privacy of education records. It provides guidelines for appropriately using and releasing student education records. When working with programs like OneNote, OneDrive, or Microsoft Office 365, remember to take note of where documents are stored. If a document or notebook will be stored in the cloud (e.g. OneDrive, Sharepoint), it may not contain any non-directory information. For full details about FERPA at WSU, visit FERPA Guidelines.
See FERPA and Cloud Policy for more information.