Innovation Campus and the Innovation University
There has been a lot of talk recently about the "Innovation Campus" and "Innovation University" ideas at Wichita State University -- what they are and how they might play a role in students' lives at Wichita State University.
The basic difference between the terms is this: The Innovation Campus is a physical location, one that is being custom-designed to help carry out the vision and goals of the Innovation University concept.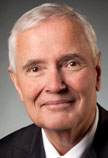 The Innovation University concept is embodied by WSU President John Bardo's vision for a new campus culture.
"Envision a place where creativity, innovation and entrepreneurship are valued – where a living/learning ecosystem has been custom-made to nurture your success. It's a place where risk-taking and collaboration are not only accepted, but encouraged, and lessons extend beyond walls and campus boundaries to influence change on the grandest scale. Envision a place where tomorrow is being created today."
For the media, the new construction on the Innovation Campus tends to be the big, visual story -- but for the faculty, staff and students of WSU, our transformation into the Innovation University is already well underway.
What's in it for WSU students?
This vision, and the strategic plan that spurred its development, values applied learning opportunities that deliver real-world work experiences while still in school. It values collaboration -- creative collisions and teamwork, even among seemingly unrelated fields of study, that solve problems and express new thoughts in unexpected ways. It values a vibrant and growing campus community, one where students live, learn, work and play in the heart of campus, making lifelong connections and being exposed to a diverse range of ideas and cultures every day they're at WSU.
Many of the traits of WSU's Innovation University have been nurtured for years in pockets of the campus. The difference now is that the infrastructure and will to support and increase such endeavors has moved into place. Administrators, faculty and staff are actively looking for ways to achieve the goals of the Innovation University by championing innovation and creativity. New facilities and resources have been created to turn visions into reality -- and much more is on the way.
How can I be a part of the action?
Dream big. Imagine change. Find problems that need solving. Start something new. Take a chance. Team with others -- even those outside your area of expertise -- to develop innovative solutions. Find ways to make the world a better place.
When our students pursue big, audacious dreams, the Innovation University becomes a reality. Doors across campus are open and we stand ready to help you make the journey.
If you haven't yet made a college decision and think the Innovation University idea might be for you, we invite you to learn more about what Wichita State has to offer.
Have a big dream you'd like to pursue? Let us know about it!