Performance Suite
Appropriate athletic attire and closed-toe shoes are required.
♦ Shirts that cover the entire back and chest are required to keep equipment clean and dry.
♦ Street clothing (i.e. jeans, dress pants or shots, boots, flip-flops, etc.) are prhibited during activites.
Personal belongings are not allowed in activity areas.
- Secure all personal belongings in a locker.
- Free locks are available at the Equipment Room.
- Campus Activities and Recreation is not responsible for lost or stolen items.
Participants must be 16 years of age or older to use this area.
Equipment should be used for their designated purpose.
Disinfect each piece of equipment after use with provided wipes.
Power/Olympic bars are to used on the rack only.
Collars are required when using the free weight Olympic bars.
Slamming or dropping the weights is prohibited.

Personal training or private instruction in this facility is prohibited unless authorized by Campus Activities and Recreation.

Medicine balls are not allowed to be thrown against the wall or bounced on the floor.

Bumper plates are to be used on the platform only.

Campus Activities and Recreation staff reserve the right to implement rules that protect the safety of the users and the facility.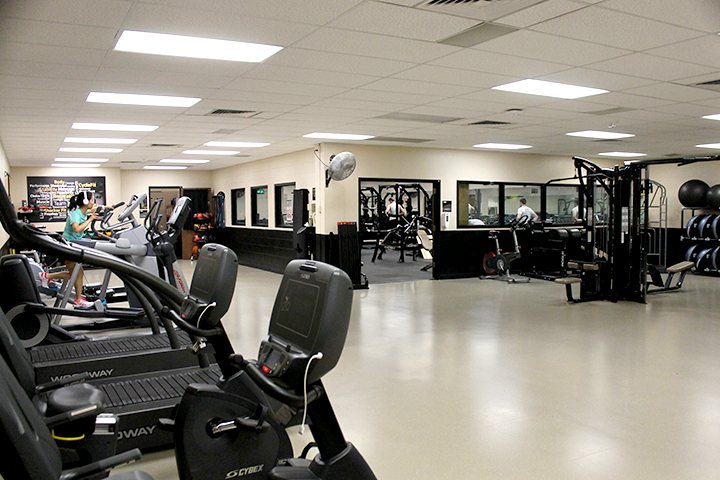 Equipment available FREE for daily checkout:
Agility Ladder
Ankle Bands
Bar Chains - 20 lb
Cones
Dip Belt
Foam Roller
Grid Stick
Jump Rope
Lacrosse Ball
Mini Bands
Mini Hurdles
Resistance Bands w/handles
Sliding Discs
Torque Sled Harness
Torque Sled Rope
Torque Sled V-Straps
Weight Belt