The W. Frank Barton School of Business at Wichita State University is pleased to announce the appointment of Mel Whiteside as the inaugural Executive Director of the Barton School's Office of Career and Professional Development (OCPD). Whiteside was most recently the Dean of Science, Technology, Engineering and Mathematics at Butler Community College.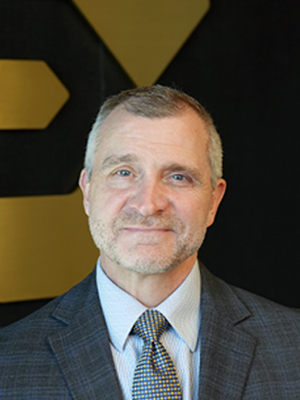 "I'm very grateful and excited to serve as the Executive Director of the newly launched Office of Career and Professional Development's first executive," shared Whiteside. "I got into academics because of my passion for students as well as their personal and professional growth. OCPD is helping me achieve that through the initiatives and programs we will be putting in place."
The creation of OCPD was announced in Fall 2022 along with a $540,000 gift from Meritrust Credit Union to expand the career efforts of the Barton School. Since then, an additional $150,000 has been secured while more fundraising continues. OCPD is aimed at linking academic programs to meaningful personal and professional lives by preparing Barton School undergraduate and graduate students to land quality internships and employment in their desired field. Many of the college's signature career programs are now housed within OCPD including Executive-in-Residence, Entrepreneur-in-Residence, Widener Global Leaders Program, Professional Edge and others.
"The new OCPD executive director role is critical to the success of the program and the students it serves," said Dr. Larisa Genin, dean of the Barton School. "Mel's experience in both academia and with top industry companies makes him the perfect person to lead the office and make an impact on student experience."
Whiteside has more than 15 years of higher education experience and more than 20 years of private industry experience with FlightSafety International, Koch Industries and others. As a dean at Butler Community College, he provided administrative oversight and leadership to 68 full-time faculty and staff, 110 part-time faculty, 23 programs and fiscal management of $6.2 million. Whiteside also established several business and industry partnerships with Big Dog Motorcycles, Foley Tractor, Murphy Tractor Company, Sherwood Construction Company, Volvo Company and more. In 2012, he served as the founding director of Wichita State University's Engineering Technology program. Whiteside holds a master's degree in career and technical education from Ball State University and a bachelor's in business administration from Tabor College.
"It's great to have Mel back at WSU and in a role that is so important for the growth of our students," said Dr. Shirley Lefever, executive vice president and provost at WSU. "Offices like the Barton School's OCPD, WSU Career Center and Shocker Career Accelerator are giving our students the tools they need to flourish after graduation."
For more information on the Barton School, visit wichita.edu/academics/business/.