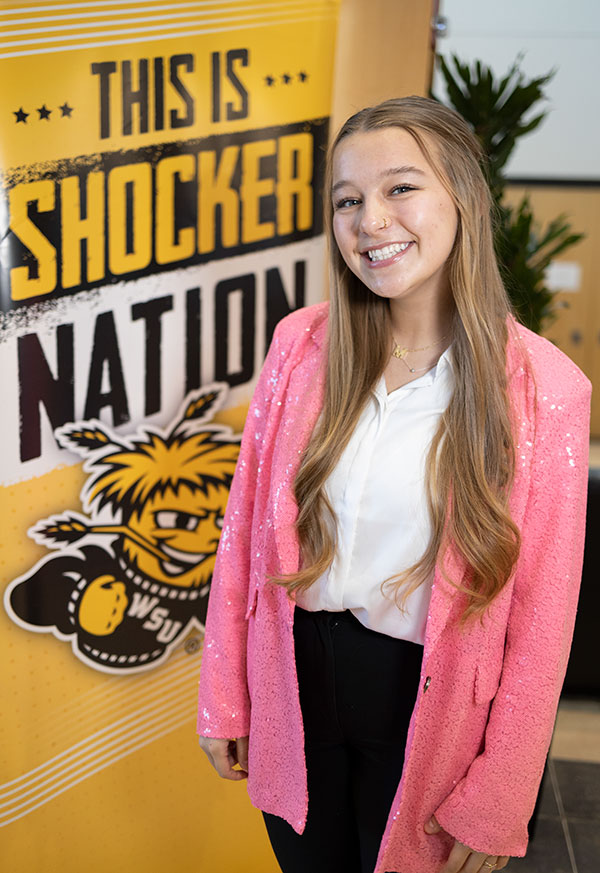 The Barton School recently talked with Maley Hansen, senior at Wichita North High School and future Barton School of Business student, who was named one of three 2023 Gore Scholars. More than 480 high school seniors from all over the country competed in this year's Distinguished Scholarship Invitational to become Gore Scholars – participating in essays, a leadership competition and interviews. Maley will receive a $64,000 scholarship to attend Wichita State University in August 2023. She is only the fourth North High student to receive the scholarship, which was established in 1954.
Get to know more about Maley, who plans to double major in Business Administration and Statistics, by reading our interview with her following the Gore Scholars announcement:
Hi Maley. First, congratulations on becoming a Gore Scholar!
Maley: Thank you so much!
Tell us about yourself. What organizations are you involved in at school and outside of it?
Maley: At school I am a member of National Honor Society (NHS), Spanish National Honor Society (SHH), DECA, Business Professionals of America (BPA), Student Council (STUCO), and the chess club. I currently serve as the student body Secretary and Treasurer. I also currently serve as the president of our DECA and BPA chapters, which are both organizations focused around preparing emerging leaders for careers in various business fields. I help run our school store which funds our DECA chapter. I also read the morning announcements and I play varsity golf and varsity soccer.
I also competed in several entrepreneurship competitions such as the Wichita Urban Youth Entrepreneurship Challenge and the Kansas State Entrepreneurship Challenge where I placed first at both competitions for my original business plan.
Outside of school, I work part time as a shop gal at Clifton Collective. This past summer, I was a Bank of America Student Leader which helped grow my leadership skills tremendously. I also volunteer my time for various community organizations such as Habitat for Humanity and the Red Cross.
Do you have any free time? If so, how do you spend it?
As involved as I am, I don't typically have a lot of free time, but over the summer I enjoy hanging out with my family at the pool. I really like going to sporting events and musical performances. Any time the weather is nice, I enjoy getting out on the golf course.
What is your strongest memory from the DSI, the Gore Scholarship competition?
My strongest memory from the scholarship competition was probably Gore Core, which is a day to celebrate all the semi-finalists. I got to meet tons of other students, eat, bowl, go on a scavenger hunt downtown, and attend a Wichita State Basketball game with my dad. This whole day was such a stress reliever and a great opportunity to meet others and learn more about WSU.
What was your reaction when you learned you were named a Gore Scholar?
I had kind of a unique experience being named a Gore Scholar. Not only was I named a finalist for the Gore Scholarship, but I was also a finalist for the Clay Barton Business Scholarship. These two competitions were set to take place on back-to-back days. So, after completing the final round of DSI, I immediately started preparing for the Barton Competition the next day. My prep time was cut short by a call from the WSU Admissions team letting me know I would not be able to compete in the Barton Competition the following day. Initially my heart completely sank, and I was so confused as to what could've gone wrong. Turns out nothing went wrong. Their initial statement saying I wouldn't be able to compete was followed by a ton of cheers and congratulations letting me know that I would have to withdraw from the Barton Competition because I had won DSI. I was totally in shock, and I am still trying to process. I am so unbelievably grateful for this opportunity, and I am so excited to see what the future holds.
How has and how will the Gore Scholarship impact you?
The Gore Scholarship will truly change my life. It will allow me to continue being my out-going, over-involved self without the financial burden college usually places on people. It will allow me to pursue both the degrees I want, and it will allow me to live on campus, which will help me get even more involved. I'm excited to become a leader at WSU and even more excited to honor the Gore Family by making the most of this opportunity.
Why were you interested in Wichita State and the Barton School?
I knew I wanted to go into business and the Barton School is the premier business school in the state of Kansas. The first time I stepped into Woolsey Hall I knew I would want to call it home for the next four years. Not only is it a gorgeous building, but the people who work inside have offered me so much kindness and support in my time as a prospective student and I couldn't imagine a better fit for me. Wichita State also has so many organizations on campus that I am eager to get involved in, such as its newly founded collegiate DECA Chapter, which I cannot wait to join. I also love that Wichita State's location will allow me to stay close to my family and to stay involved in my local community. I currently have a business plan in the works and staying in Wichita would allow me to pursue those entrepreneurial endeavors. Business makes the world go round and I am exciting to contribute to that.