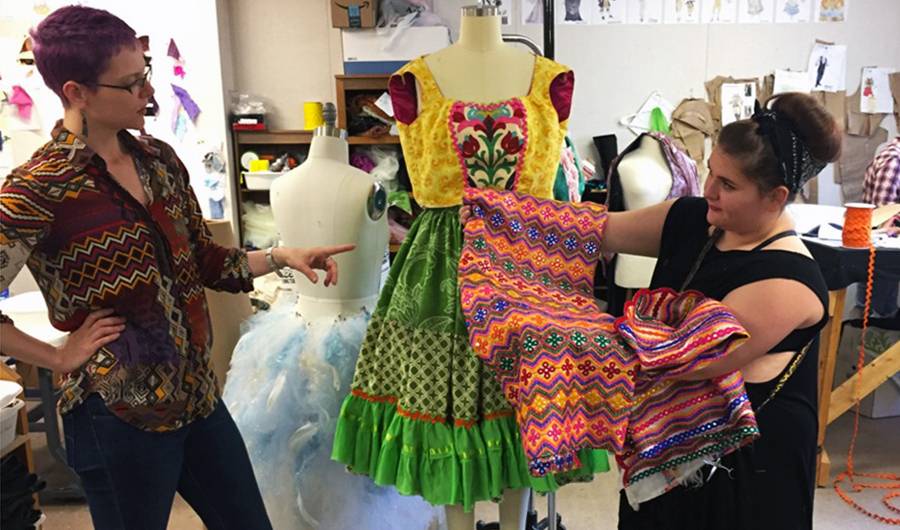 Wichita State University Technical and Theatre Design major Payton Dickerson is spending her summer helping bring "Beauty and the Beast" to life in Moorhead, Minnesota.
Dickerson is interning as a junior cutter and draper for Trollwood Performing Arts School, a summer arts program for high school and middle school students within the Bluestem Center for the Arts. Her days are filled with cutting and building costumes for different high school age cast members. Dickerson's current project is creating a costume for Mrs. Potts, the talking, singing teapot character in "Beauty and the Beast."
"I love creating this costume," says Dickerson. "There are so many pieces that go with it, and I get to work with raw silk. Plus, the actress is just great. She's up for anything."
Dickerson isn't off the hook once the costumes are finished. In the last four weeks of her 12-week internship, she'll also get wardrobe and dresser experience, helping dress the cast, assist with quick changes and make last-minute repairs all while the show goes on.
Dickerson and the rest of the costuming crew work with a cast of young students to create beautiful costumes, but cutting and sewing aren't the only skills they will take away from the internship. Dickerson will also bring improved leadership and communication skills back to WSU.
"When you work in the costume shop, it's important to make sure everyone is on the same page," says Dickerson. "I have to make sure people are keeping on track."
Dickerson also hopes this internship will lead her to her post-graduation dreams.
"First, I want to go to graduate school, and then join the Wardrobe Union and maybe the Design Union," says Dickerson. "There are so many options."
Dickerson hasn't decided on what her ultimate career goal is, but she does have big theater aspirations.
"I would love at some point to do wardrobe crew with a touring show," says Dickerson. "I love traveling and the magic of adjusting shows to new spaces."
Dickerson also thinks about becoming a theater shop manager in the future, but knows that no matter what, she wants to work in costuming. She hopes this internship and her experience at WSU will help her achieve this goal.