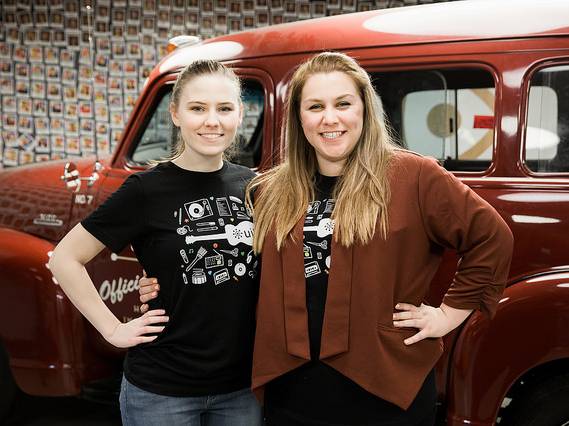 LaRissa Lawrie, a first-year graduate student studying communications, and Hannah Hund, a senior biomedical engineering major, may be studying different subjects, but they have a similar passion: innovation and entrepreneurship.
Hund and Lawrie are University Innovation Fellows (UIF). UIF is a program run by Stanford University's Hasso Plattner Institute of Design, which empowers students to become leaders of change in higher education.
Fellows from all around the globe create student innovation spaces, found entrepreneurship organizations, host experiential events and work with faculty and administrators to develop courses.
The program was recommended to them by their professors after their success with Shocker Startup, an innovation and entrepreneurship student organization Hund and Lawrie co-founded in 2015.
Hund and Lawrie were chosen as one of 23 student event leaders for the program's Silicon Valley Meetup last fall.

"These 23 fellows were hand-selected out of an international community of more than 1,200 fellows for the impact they have had at their schools and for their contributions to the movement," says Stanford UIF Communications Director Laurie Moore. "They represented their schools in front of 300 student and faculty attendees from 82 universities and colleges around the world."
Hund and Lawrie both spoke at the event, and helped facilitate learning sessions, thinking activities and empathy activities.
"I talked about reaching diverse student populations and getting them interested in innovation and entrepreneurship," says Lawrie. "Shocker Startup was one of those ways."

This past year, Shocker Startup organized the first 24-hour Wu-Invent design competition, themed "Mars or Bust." During the event, student teams developed solutions to increase the sustainability of water, food and energy resources on Earth with applications on Mars. Five teams composed an idea and delivered a product to be judged within 24 hours, giving them the opportunity to collaborate across disciplines and experience the design process from start to finish.
The organization will hold their second Wu-Invent event in February, 2018. This event, themed "Invent for the Planet", will be a follow up to "Mars or Bust."
Shocker Startup was also a source of inspiration for Hund to organize the first TEDxWichitaStateUniversity on campus. She and another Shocker Startup member, Puvindren Supramanian, organized the event with Student Involvement as a way to showcase the ideas that matter to the WSU community and to inspire curiosity, creativity and connection. TEDx also challenges students to bring together ideas from different disciplines to inspire and inform one another.
Hund and Lawrie agree that the UIF program has been an important part of their college careers.
"It's one of the most worthwhile experiences that I've had in college," says Lawrie. "I hope that Wichita State keeps participating in the program."
"Any student can have the impact that LaRissa and I have had at Wichita State," says Hund.
Students can learn more about Shocker Startup at http://bit.ly/ShockerStartup or by liking their Facebook page.
Videos of their presentations can be found at http://bit.ly/LawrieVid and http://bit.ly/HundVid.
---
For more information, contact LaRissa Lawrie at lawrie.larissa@gmail.com and/or Hannah Hund at hundxhc@gmail.com
---