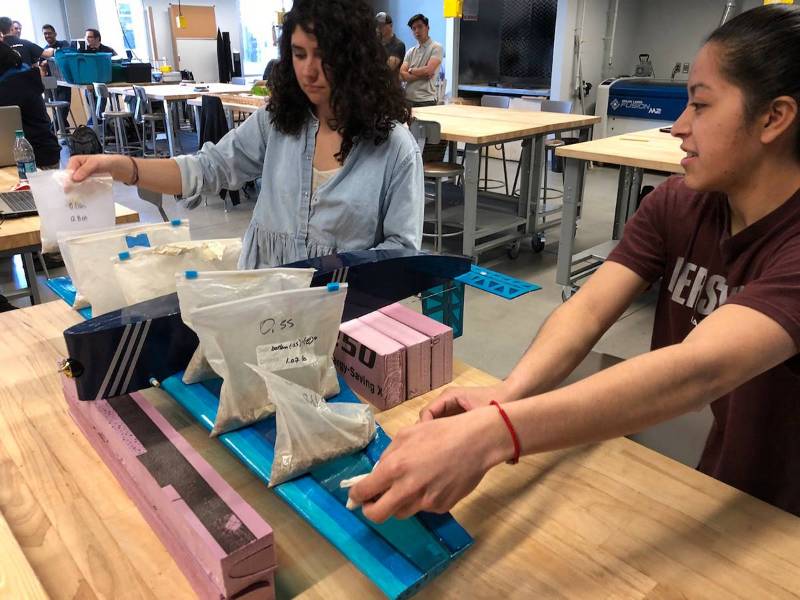 Wichita State professor Scott Miller dreamed of a competition in which students and the greater Wichita community would want to participate. Although some aerospace engineering students had been competing in different competitions for about 30 years, Miller wanted to see participation from all aerospace engineering students.
His vision became a reality nine years ago when he introduced the Bronze Propeller Competition, an event where teams use a small electric powered aircraft to meet competition objectives.
"I like competitions because it pushes the students," said Miller. "There are always a lot of deadlines they have to meet and the competition element is cool."
This competition gives students the opportunity to go through all the stages of the design process. Students come full circle from the idea through designs, prototypes, ground-testing, demonstration, flight and delivery.
"It's not just applying concepts that they've learned in previous classes," said Miller. "It's also a lot of practical things that you can't learn until you really do them."
The competition involves designing and building an aircraft that will be judged not only on its ability to fly, but also on its ability to complete an assigned mission.
This year's mission was titled "An Aerial Reforestation UAV."
Boeing sponsored the competition, which made the incentive to win even higher. Not only does the winning undergraduate team get their names engraved on a traveling trophy with a real bronze propeller, they also receive $3,000 in prize money.
Prize money is also awarded in the undergraduate category for second and third place, the high school category for first, second and third place, and the professional category for first place.
Past and current students participating in the competition feel their experiences in the class have been really valuable.
"Honestly this class, the whole experience is kind of amazing," said Kevin Hagen, a graduate student whose team won the competition in 2016. "It's just an easy way to show potential employers that you actually have concrete skills that are valuable. It's nice that we all get something to show at the end of it."
But it's not just about having something that will impress future employers, it's also about learning how to work as a team.
"I think it's definitely more hands-on than any of our other classes," said Amber Fischer, a senior aerospace engineering student. "It's a really long-term process. We work with the same people for a year and I think that's one of the most valuable aspects of this class."
The 2018 undergraduate team winner was "In Thrust We Trust," comprised of team members Ian Santry, Michael Thurman, Frederick Fair and Jorge Mosqueda-Espinosa.
Participants do not have to be part of Miller's class to join the competition. Any undergraduate student can assemble their own team and participate. High school teams and graduate teams are also welcome and can compete in their own division.
For more information on this year's winners and how to get involved in next year's competition, visit https://wsu.news/bronzepropeller.
---