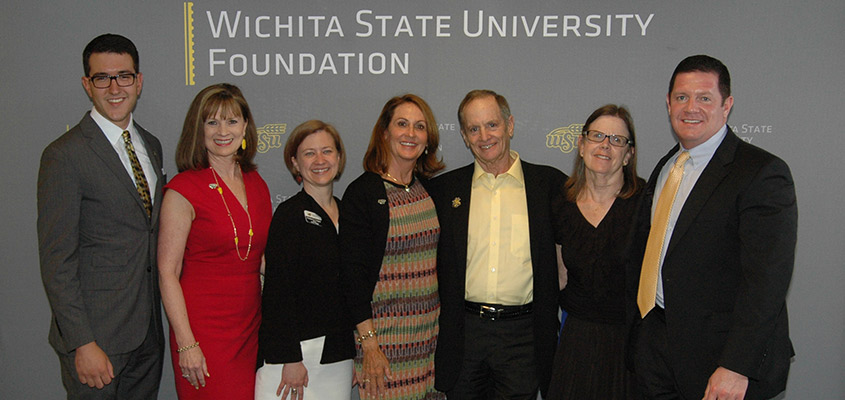 Dorothy and Bill Cohen have pledged a gift of $2.5 million to the Honors College at Wichita State University, just three years after they gave $5 million to help the College deliver a rigorous educational experience for highly ambitious students.
In recognition of the 2015 donation, of which $250,000 went to University Libraries, the College was named the Dorothy and Bill Cohen Honors College. At that time, it was only about a year old, having evolved from an Honors Program into an independent academic unit offering its own baccalaureate degree. Enrollment was about 200 students.
Today, the Honors College has about 600 students who are pursuing more than 90 majors across campus. It engages about 65 faculty from multiple academic departments. The college also offers enrichment opportunities to all students, including funding for undergraduate research and credit for service learning.
Advancing the Honors College is one of the top priorities of the WSU Foundation's Shock the World Campaign.
"In Dorothy and Bill Cohen, the students and faculty in the Cohen Honors College have found visionary advocates for an experience that goes beyond the classroom to emphasize service, leadership and discovery," said Elizabeth King, WSU Foundation president and CEO. "This is a remarkable vote of confidence in the College and in Wichita State."
The new gift will support scholarships for underrepresented and first-generation students, with a goal of helping the Honors College and WSU increase diversity. It also will provide additional funding for leadership development and first-year experiences such as research projects.
"This additional investment recognizes the Honors College for exceeding our goals and demonstrating a fierce commitment to students," the Cohens said in a statement. "Our confidence in the program grows each time we meet with students and faculty who believe as strongly as we do that an educated citizenry will elevate society and improve our communities."
The Cohens' support, said Cohen Honors College Dean Kimberly Engber, has given the College the resources to grow into a premier learning community for students seeking challenging experiences inside and outside of the classroom and for faculty seeking to experiment with course design or to incorporate research or applied learning experiences into their teaching.
"Their philanthropy and vision is creating opportunities for students throughout their college career and positioning them not only for success after graduation but also for leadership in their communities," Engber said.
The Cohen Honors College is housed in a section of Shocker Hall, a WSU residence hall. Structural improvements are planned that will include its own entrance, a new seminar room and more spaces for student and faculty collaboration. The project is scheduled to be completed by fall 2019.
Dorothy and Bill Cohen have supported Wichita State for more than three decades. They have endowed a scholarship in the College of Education, donated to the renovation of the Rhatigan Student Center and the president's home, and contributed generously to athletics and fine arts.
Bill Cohen is the former chairman and CEO of IMA Financial Group, headquartered in Wichita and founded in 1974. He serves on the WSU Foundation's National Advisory Council. Dorothy Cohen has worked for the Wichita Metropolitan Chamber of Commerce, Private Jet Expeditions and Consolidated Holdings. She served in a consulting relationship with the government and public relations division of Koch Industries for nearly 20 years.
In 2007, the Cohens were recognized with the WSU Foundation's Fairmount Founders' Award, which honors those who support access to education for all, a vision of excellence and connection to community. Earlier this year, they received the WSU Alumni Association's Award of Distinction.