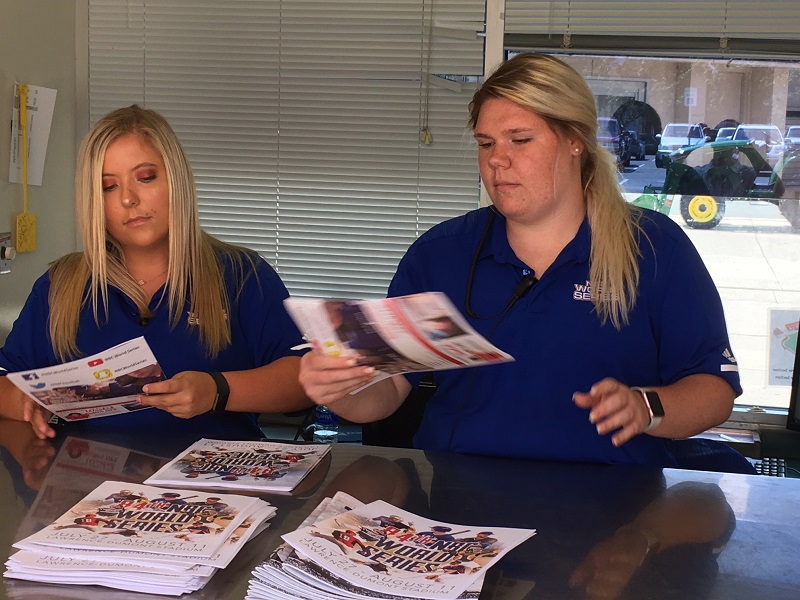 The National Baseball Congress World Series is 16 days of scanning tickets, running the bubble ball promotion, energy drinks and dirty dugouts.
For seven Wichita State sport management practicum students, it's 15-hour days (more with rain delays) that can provide career clarity. Working in sports often means opening early and working well after the fans leave. Filling water coolers in dugouts and setting up tables is more a part of the job than watching games or hanging with superstars.
"There will be a lot of odd, random tasks, whether it be checking bathrooms for paper towels, cleaning up trash throughout the concourse, fixing banners and advertisements," said sophomore Caleb Janzen. "You see what aspects you do like and what aspects you don't like. You've got to learn about the hard work and the long hours."
The NBC practicum attracts students who love baseball, so they're used to checking the weather radar, and they understand the patience required to work a sport where the clock usually doesn't rule.
"I like outdoor sports and I definitely want to do something outdoors," Wichita State senior Ashlynn Godown said. "This is kind of like home for me. In the summer, I'm also an umpire . . . so I'm pretty comfortable around here."
Many of the practicum students grew up playing baseball or softball and see a career path in those sports. Matthew Black enjoys talking about the NBC's long tradition with fans. Godown often came to the NBC as a fan. Howarah is targeting game-day operations in baseball as a possible career path.
"The people is what makes the job fun," said senior Hayley Bischler said. "I really want to work in college football. I was a football manager for four years in high school (at Derby) and I really enjoyed it, being a part of the team and helping them."
By the end of the tournament, the students take away experiences that translate into all areas of athletics – operations, promotions, tickets, marketing and customer relationships. The NBC, a tournament that started in 1935, has provided numerous Wichita State students with real-life experiences through class requirements and the practicum. Several of the students also worked at local events such as the NCAA men's basketball tournament, the Wichita Open Web.com Tour golf tournament and NAIA and NJCAA events in the area.
Whatever it is that they want to do, it's going to translate. The skills that they are picking up on are beneficial, whether they want to be in minor-league baseball or not.
Mike Ross,
Sport Management Instructor, Wichita State University
NBC director of operations Jason Ybarra worked at the NBC in 2012 and 2013. Sport management instructor Mike Ross worked in the press box and helped with media credentials during the 2001 tournament as a student. Miles Hodson, now a senior account executive for tickets at the University of Tulsa, served his practicum in 2015.
"For them, it's seeing what it takes to put on a national event," Ybarra said. "They're willing to learn. They're willing to work. When we have a practicum (class), we probably will have an intern (from that group) that loves to do it, instead of bringing in an intern that has no idea what the World Series is about."
All of the practicum students will work a 640-hour internship during their time at Wichita State. The practicum can lead to an internship, which can help the student land their first job.
"Those two experiences then become almost an apprenticeship," Ross said. "I ended up in college athletics after the NBC. Whatever it is that they want to do, it's going to translate. The skills that they are picking up on are beneficial, whether they want to be in minor-league baseball or not."
In its early days, Ross said, the practicum gave students a chance to shadow a professional during a job. It evolved into a 160-hour practicum.
"It's an opportunity for these students to get hands-on experience in our industry early on in the program," he said. "It gives them the opportunity to see where they are, how much they know, how much they don't know."
The students are busiest during the 7 p.m. game, the featured game of the day. That game usually attracts the biggest crowd and the on-field promotions during the game are at their peak.
"Handing out hot dog vouchers, throwing out baseballs," Black said. "I would love to stay in baseball. Coming into it, I was still kind of iffy on what I wanted to do after school. After doing this, I want to look into game-day operations with a baseball organization. It's a lot of hard work. At the end, seeing all the baseball and everything pay off, I think it's really cool."