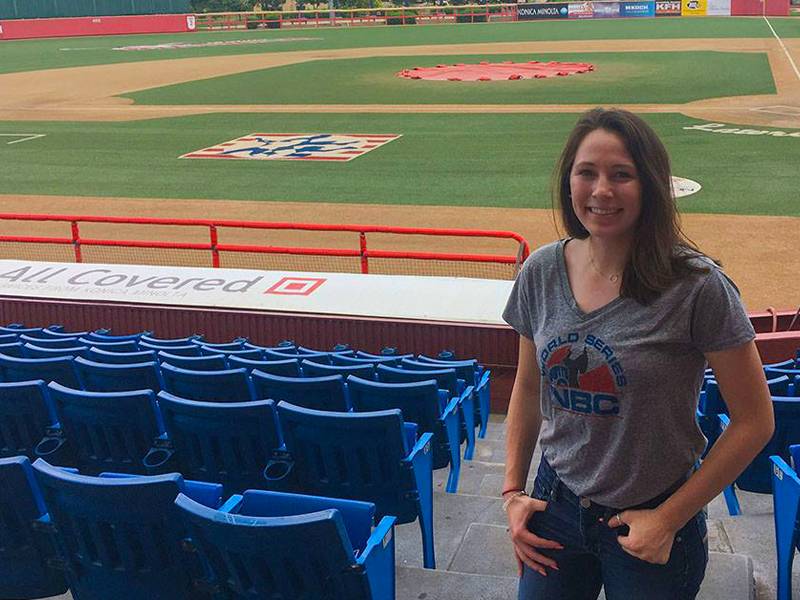 Not all of us can say that we chose our jobs based on what we like to do for fun, but integrated marketing student Ashlyn Parrish can. Last summer, she interned for the National Baseball Congress (NBC), a foundation that is dedicated to promoting the growth of the NBC World Series and encouraging baseball in our community.
Parrish spent her days working as a digital media coordinator, where she oversaw the NBC's social media accounts, produced digitally made merchandise, attended marketing events and helped the staff prepare for the NBC World Series, a 16-day baseball tournament.
Parrish realized the importance of making connections for her career.
My number one piece of advice is to make a lot of connections.
Ashlyn Parrish
In September of 2017, she worked as a marketing intern for SJCF Architecture and made an authentic connection with the creator. He later linked her to her current internship.
"The National Baseball Congress usually only hires people that have already graduated or have a senior class standing, but I was a junior and they chose me," said Parrish.
A mix of raw talent and practice allows Parrish to excel in her career, and makes her the perfect candidate in her field. After taking a graphic design course in high school and having encouragement from her teacher, she realized her calling in creating visual concepts. She knew that sports media was her entryway in this field due to the knowledge and the joy playing sports brought her in high school.
"Feeling like I'm not good enough comes across my mind sometimes, but I just have to remind myself that there will always be people better than me and I should hold myself to a higher standard," said Parrish.
Parrish hopes to continue working in sports media after she graduates, and hopes to work for a major league baseball team in Arizona.