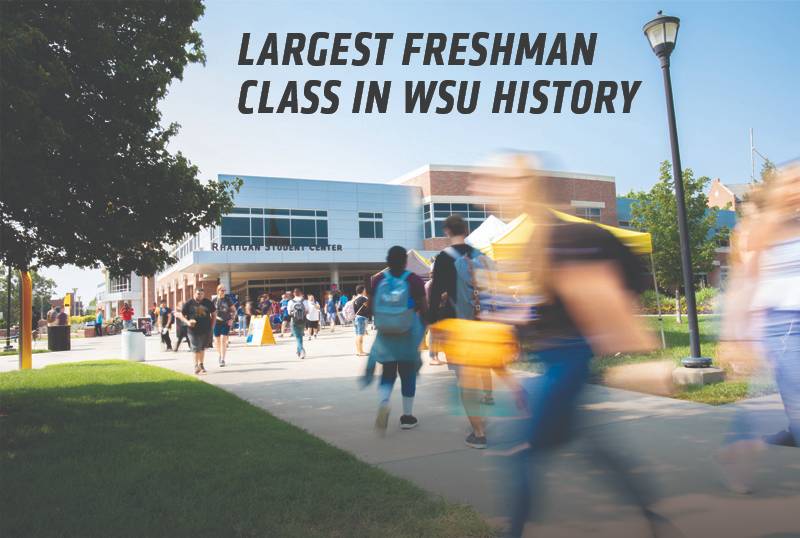 As reported by the Kansas Board of Regents (KBOR), KBOR's defined full time equivalent (FTE) for WSU is 11,285, an increase of 1.58 percent over last fall's 11,109. For KBOR reporting purposes, full time is considered to be 15 hours for undergraduates and 12 hours for graduate students.
Actual total headcount at Wichita State for fall 2018 is 15,784 students, an increase of 703 students, or 4.7 percent, over fall 2017. The new first-time freshman class of 1,606 students is the largest in school history for the third consecutive year, and marks the fourth time in five years the record has been broken.
Total student credit hours are 164,212 for fall 2018, an increase of 1.7 percent compared to fall 2017.
According to Provost Rick Muma, "these gains are remarkable given the challenges we face in higher education such as the declining number of high school graduates, increased options for students, and the difficulties students face in financing their education. Our successes are made possible with a multifaceted strategic enrollment management plan, now in its third year, that continues a major focus on providing more need-based aid for Sedgwick County residents, and recruiting and retaining the traditional high school freshman, online, transfer, and working professional student."
Gains were realized in the following categories:
11.8 percent more new students from Sedgwick County and the surrounding metropolitan area
26 percent more new students from out of state
6.4 percent more new transfer students
40.2 percent growth in total students from the I-35 corridor
6.2 percent growth in total students from underrepresented race/ethnic minority backgrounds
60.6 percent growth in total online majors
30.1 percent growth in non-degree students, badges, etc.
On-campus living of more than 1,300 residents, the most in university history
Two enrollment success stories: 1) the College of Fine Arts' Bachelor of Applied Arts in Media Arts. The new degree with emphasis areas in animation, audio production, filmmaking and game design launched in fall 2017 with 47 students and grew to 178 enrolled majors this fall, 2) The College of Applied Studies, School of Education also launched the Teacher Apprentice Program in summer 2017 with 33 students and grew to 362 enrolled majors this fall. This program appeals to para-educators seeking to become licensed teachers while continuing to work as para-educators.

WSU offers a variety of courses for non-degree seeking students and professionals in the community. These include badges, market-based tuition courses, and lifelong learning classes. WSU welcomes people from high school through retirement who enroll to gain new knowledge and skills. These short courses serve to advance the university's mission on several levels. Some of these courses help prepare high school students to be successful when they transition to college, thus promoting retention and student success. Other courses are designed at the request of industry to serve specific workforce needs, and still others are continuing education courses that enrich the lives of anyone who wants to engage intellectually. Those who complete the courses gain new skills, get to experience a small slice of what WSU has to offer, and may choose to seek further educational opportunities at the university. Though students may initially only plan to take one course to gain a specific skillset, it's evident that some students are parlaying their limited engagement experience into a degree-seeking program. For example, 11 students enrolled in a supply chain management badge course in fall 2017; five of those students were admitted to the newly created master's degree in supply chain management this fall.
"The continued enrollment growth in multiple categories can be attributed to the dedicated work of staff and faculty across campus in advancing our Strategic Enrollment Management (SEM) goals. The commitment of these people to attract and support our students is remarkable," said Carolyn Shaw, Associate Vice President of Academic Affairs and Strategic Enrollment Management.
---