Despite the wintry weather, students planted new "flowers" on campus this week as part of the Wulip Garden placemaking initiative aimed at creating a unique and inviting environment for campus visitors.
The flowers, called Wulips, are yellow and black blooms made from chicken wire and bamboo. More than 50 students, alumni, faculty and staff collaborated on the project.
"The garden looks great," said Xan Mattek, a junior studying performing arts who participated in the project. "I think people will want to hang out here."
Wulip Garden is located on the banks of Braeburn Pond, behind the new Shocker Store on the east side of campus. It includes 500 individual, oversized blossoms made from more than 10 bales of chicken wire.
For students enrolled in ARTS 211: Intro to Community & Social Practice, Wulip Garden has been an opportunity to execute a large, visible project. Students helped with planning, gave the garden its name, fabricated most of the Wulips, made adjustments on the fly and spent two weeks testing the concept on site.
"It's amazing how much we accomplished in a class meeting once a week," said Sara Towns, a junior studying art education.
Jack Cook took the class as a departmental honors course. A freshman who plans to study engineering, he saw a direct correlation between the execution of Wulip Garden and his field of study.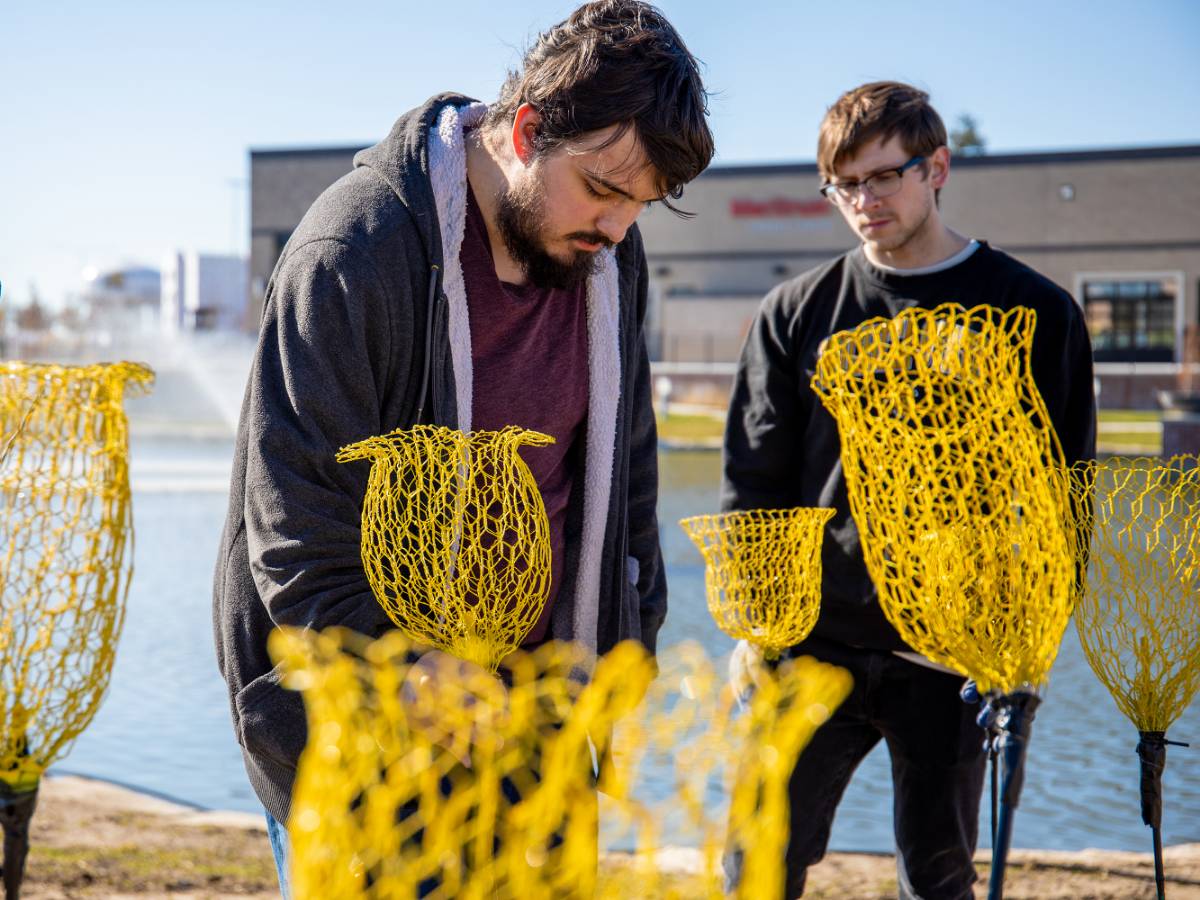 "It has been interesting seeing how it came together, from the planning to making changes, to ensuring we had the right amount of people," Cook said. "And we got to do something interactive instead of sitting in a lecture."
The initial goal of the project is to utilize a site that will eventually become phase two of Braeburn Square. Construction is set to begin summer 2019.
"We started with a dirt field and worked backwards," said Kristin Beal, community and social practice instructor. "This is what artists do all the time – work within parameters to execute projects."
Community & Social Practice is a concentration within the Studio Arts program in the School of Art, Design and Creative Industries. The introductory class also qualifies as a general education course.
"It's a fun class," said Godwin Okekanma, a freshman in computer engineering. "You have to work hard, but you'll wind up with all kinds of things you can put on your resume."
This semester, students also participated in a voter registration drive and collaborated with a visiting artist on an interactive performance and gallery show. The discipline is often project-based and requires leadership and organizational skills.
"Social practice work is about bringing art to a general audience in an accessible, participatory and inclusive way," said Beal. "Sometimes it seeks to bring awareness or create social change, and other times it's just about having fun in community."
University placemaking consultant Ty Tabing tapped Beal and Hallie Linnebur, Meghan Miller and Mike Miller for the project. All four are local artists and WSU alumni. Linnebur's 3D design students also helped with Wulip production.
"Mike, Meghan and Hallie are a dream team," said Beal. "They have good creative instincts and work well with others. They're also professional artists who are good mentors and examples for our students."
The Wichita State paint shop assisted by adding color to each flower and stalk and dipping the flowers in iridescent beads that reflect light.
Wulips border Braeburn Pond for now, but they may appear elsewhere in the future.
"The beauty of this project is that it's a moveable feast," Tabing said. "Wulips could always pop up in other places."
---