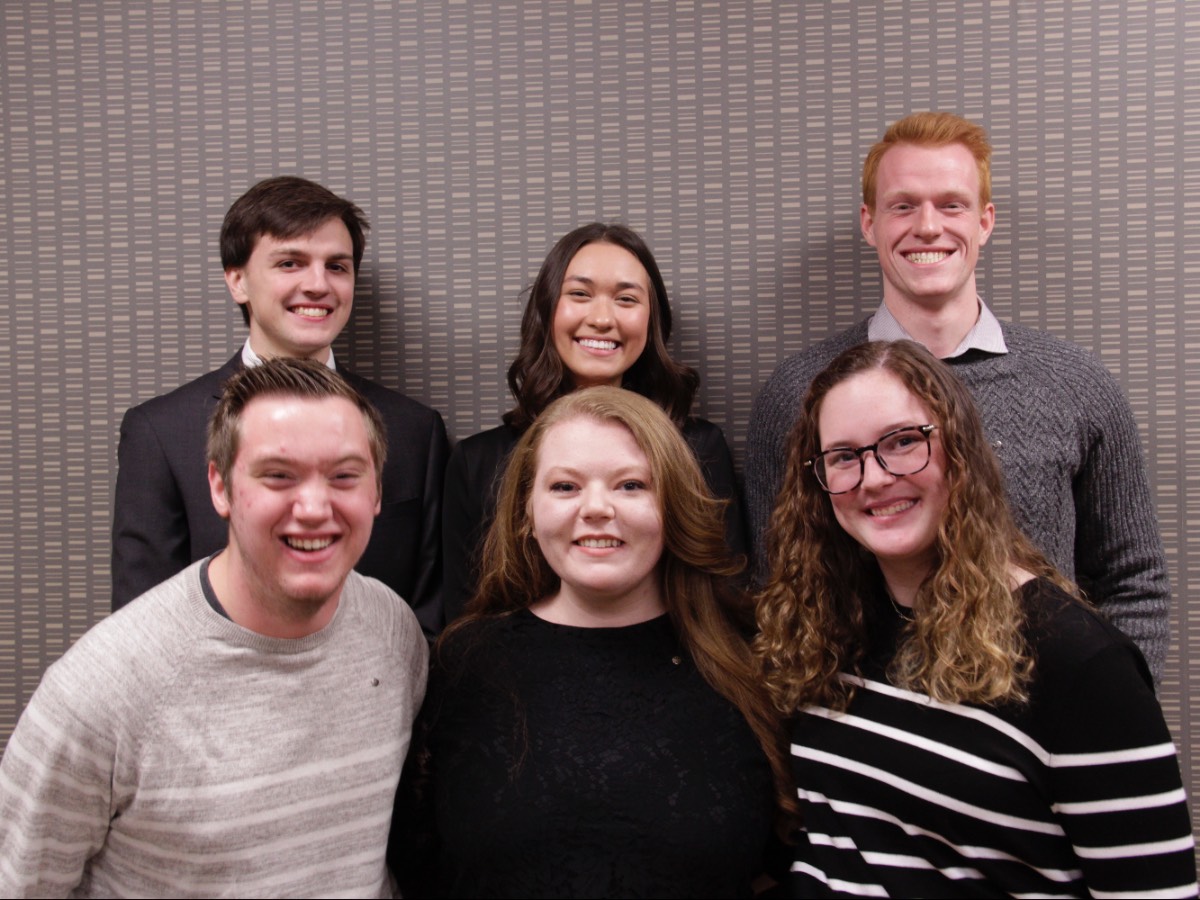 ---
Six Wichita State students have been named University Innovation Fellows by Stanford University's Hasso Plattner Institute of Design. Out of 1,800 fellows worldwide, there have been 30 fellows at Wichita State, with 13 still active on campus. The new cohort's students are:
Maggie Brown, sophomore, Aerospace Engineering
Noah Foster, sophomore, Computer Science
Christian Ammerman, sophomore, Secondary English Education
RJ Clark, graduate, Biomedical Engineering
Sierra Bonn, junior, Biomedical Engineering
Mikah Betterton, sophomore, Mechanical Engineering
This prestigious national program seeks to empower student leaders to increase campus engagement with innovation, entrepreneurship and design thinking.
The University Innovation Fellows program enables students to become agents of change at their schools. Fellows work to ensure that their peers gain the knowledge, skills and attitudes required to compete in the economy of the future and make a positive impact on the world.
Gary Brooking, director of the engineering technology program at WSU, says the leadership team is working toward goals that include increasing awareness of innovation on campus and in the community. They are hoping to break the idea of innovation belonging to only the engineers and extending it to everyone, increasing interdisciplinary connections across campus, encouraging students to utilize campus resources, and reaching out to underserved local communities.
The program is run by Epicenter, which is funded by the National Science Foundation and directed by Stanford University and VentureWell.
The new fellows have plenty of plans for their time at Wichita State. Projects include:
Shocker Study Spaces, Maggie Brown is planning for the development of spaces all around campus that would be based off of student experiences, faulty recommendations and off of the fellows' own experiences. These spaces would be marked on different directories inside of the buildings and then with a wall decal placed on the wall of the actual space. A campus map will be generated with an internal view of buildings specifically so students know where the spaces are. The spaces will be adaptable and hopefully change as the campus grows and buildings expand.
Let's Go Full STEAM Ahead, Sierra Bonn has started a fundraiser to help raise money to purchase traveling LEGO kits with the intention of donating them to local classrooms and children's hospitals to help expose children to STEAM education. She has also promoted STEAM by working inside local elementary schools like Colvin Elementary, where each week she facilitates hands-on science, technology, engineering, arts, math experiments and activities for K-4th-grade girls.
Innovation Station, Christian Ammerman's objective is to learn the design thinking process, to gain knowledge of STEAM, to encourage innovation and to teach problem solving skills in 3A or lower schools through traveling design thinking workshops and challenges. This will allow students to then spread the knowledge to their peers and promote positive change in their schools, making them primed for an innovative mindset later in life. This is meant to usher in the next age of innovators, to inspire students to make change in their communities, and to create a lasting impact in various schools that WSU currently does not reach.
ICTOUR, Mikah Betterton's objective is to assist first-year students in learning WSU's campus. She has reached out to local businesses and partners regarding ICTOUR. She hopes the project will be viable by fall 2019 and will be immersed within the first-year's student experience.
WUFIX Goes Greek, RJ Clark's objective is to organize a design competition event aimed toward the Greek community to encourage them to discover the many interdisciplinary connections they could be making, as well as to better utilize the connections of which they may not even know they could be taking advantage of. During the competition competing Greek organizations must solve a predetermined problem that involves WSU's local community.
Shocker Scooters, Noah Foster's objective is to encourage students to utilize campus resources. He has reached out to Bird, an electric scooter company that places scooters in cities to generate revenue for themselves by charging $1 per ride and $0.20 per minute. In addition to this, it also generates revenue for the campus.

---
Have a great story for us to tell? Let us know.