A Wichita State University interdisciplinary team has been accepted to participate in the National Science Foundation Innovation Corps program for a device they created that could make a huge difference in orofacial research.
The team, consisting of Heidi Bell, associate dean of the Dorothy and Bill Cohen Honors College and assistant professor of human performance studies; Piyush Kalra, graduate student in the Masters of Innovation Design (MID); and Jeremy Patterson, director of the MID program, will participate in a seven-week program that will provide a path for commercialization of their project, which addresses a void in medical and clinical practices specializing in orofacial myofunctional disorders (OMD) such as sleep apnea, dysphagia, malocclusions, tongue thrusts and articulation, which affect millions worldwide.
The project is named PARROT, a depiction of what the device is intended to do. Similar to a Parrot bird, which is known to mimic words and actions, PARROT will mimic the behavior of the tongue while recording real-time objective data of those behaviors.
Through the National I-Corps program, the PARROT team will investigate the commercial landscape by engaging with industry and talking to customers, partners and competitors. The I-Corps curriculum provides practical, hands-on, immersive learning about what it takes to successfully transfer knowledge into products and processes that benefit society.
"We are looking forward to participating in the national program to further advance our business model," said Bell. "We are excited to see what the future holds for PARROT."
PARROT captures real-time natural lingual behavior outside a controlled clinical setting to further understanding of the obscure happenings within the oral cavity. Such information may further advance OMD diagnostic and rehabilitation practices and promote the engagement of new research across several medical and clinical fields.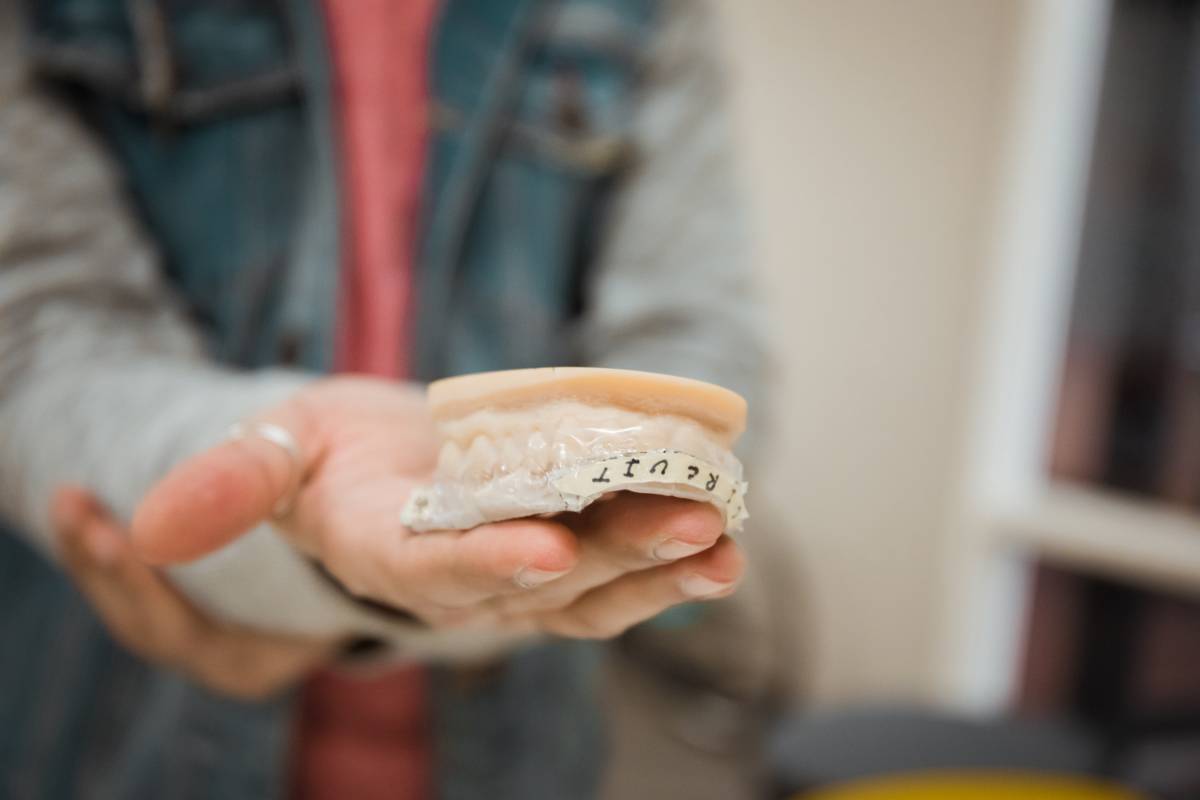 Currently, OMD research devices and techniques rely on controlled clinical settings, provide limited biofeedback and disrupt natural lingual behavior and responses.
PARROT participated in the Shocker I-Corps program, administered by WSU Strategic Initiatives last summer.
"Team PARROT created a stronger business model through the Shocker Innovation Corps program," said Bell. "It conditioned the team through a structured and applied learning approach to become more entrepreneurial-minded. Instead of telling the market what a great new product we have for them, we have learned to listen to them regarding marketplace and what they need."
Kalra serves as the entrepreneurial lead. Bell is the team's technical lead and Patterson is the team's mentor; roles required by the NSF for all I-Corps projects.
---
About NSF Innovation Corps
The National Science Foundation (NSF) I-Corps program prepares scientists and engineers to extend their focus beyond the university laboratory and accelerates the economic and societal benefits of NSF-funded, basic-research projects that are ready to move toward commercialization.
Through I-Corps, NSF grantees learn to identify valuable product opportunities that can emerge from academic research, and gain skills in entrepreneurship through training in customer discovery and guidance from established entrepreneurs.
Have a great story for us to tell? Let us know.