Dr. John Bardo decided that Wichita State University athletics deserved a conference home that fit its success and ambition.
As much as he wanted the university to expand WSU's economic influence and prestige regionally and nationally, he wanted athletics to grow by associating with similar schools.
His experience with college athletics and his research told him Wichita State belonged with schools such as Cincinnati, Memphis and Houston – either by geography, type of research institution or ambition.
With those guiding principles, Bardo started an evaluation in 2015 that would land Wichita State in the American Athletic Conference in April 2017 after 72 years as a member of the Missouri Valley Conference.
While the MVC served as a valued home for Shocker athletics for all of its NCAA Division I history, the study told him that the Midwestern mix of private and small-city state schools no longer served as an appropriate place for a university on the rise.
"He demanded that we look at our university objectively and where we wanted to be and who we wanted to become, not necessarily who we are," said Darron Boatright, director of athletics. "He wanted to transparently look at ourselves, look at the sports we sponsored, look at the league that we are in and see if that's who we wanted to be, and if we had options."
Rubbing elbows with major-league cities
Associating with schools such as UConn, SMU, Cincinnati and Memphis appealed to Bardo's competitive spirit. Traveling to cities such as Dallas, Houston, New Orleans and Orlando appealed to his vision for Wichita and Wichita State.
"These are schools that are either like us now or like we want to be," he told The Wichita Eagle in 2017. "This conference is saying we want to be on the map as a player. This is not, 'Oh gosh, can we drive a bus over here?' It's, 'We want to be a player. We want to get to where people are afraid to play us.'"
Wichita State is two years into its membership in the American Athletic Conference and the benefits are numerous.
"He thought, 'OK, where can our athletic department be and what's the best landing point?' . . . and on and on," men's basketball coach Gregg Marshall said. "Here we are now in a conference where you're going to receive three-to-five (NCAA Tournament) bids this year. Our university now is rubbing elbows with major-league cities."
The American is ranked No. 6 nationally among the nation's 32 men's basketball conferences (eight spots higher than the MVC), which provides more access to berths in the 68-team NCAA Tournament. There are similar competitive pluses across the department's sports – from women's basketball drawing a crowd of 6,156 to watch No. 2 UConn to track and field competing with Houston's elite sprinters to baseball and softball playing against strong opponents.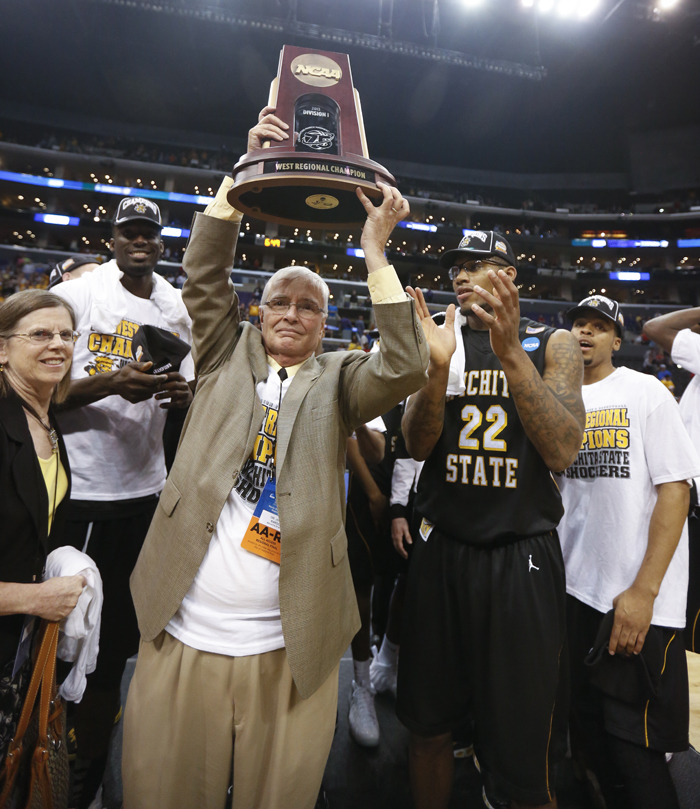 In those two seasons, Shocker volleyball won the 2017 American title and hosted NCAA play for the first time. Men's basketball earned a No. 4 seed in the 2018 NCAA Tournament, ending years of frustration with its treatment by the selection committee. The softball and women's tennis teams claimed NCAA at-large bids in 2018.
"A visionary," said Becky Endicott, senior associate athletic director. "A visionary who believed athletics could be a window to the university and also had a vision of aligning us with similar universities in regards to innovation and research."
Bardo's attention to athletics came naturally.
He grew up a sports fan, often talking about his love for Ohio State football and watching his hometown Cincinnati Bearcats play basketball and football in the Missouri Valley Conference of the 1960s. He taught sociology at Wichita State from 1979-83 and, upon his return in 2012, claimed to own a T-shirt celebrating basketball and football victories over the University of Kansas from the 1980s.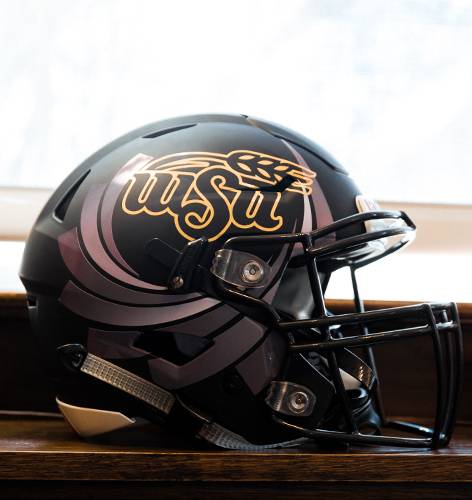 He famously ordered a football helmet and marching band uniform designed during the university's assessment of the athletic department. He enjoyed the excitement, conversation and reactions when he Tweeted those pictures.
"He was really engaged in following athletics," Boatright said. "He would not hesitate to tell you his favorite sport to watch was women's basketball. He enjoyed the manner in which it was played. I think he probably saw a representation of the student population in that particular sport and realized a lot of time those young people aren't playing for the glory or playing for recognition, they're playing because they love the sport."
Bardo wore a black-and-yellow tie that became a good-luck piece on the team bus during the 2013 Final Four, during his first year as president. Marshall said his conversations with Bardo over the years, often involving campus projects, always left him feeling as if he learned something interesting.
"It was great for me to see him enjoy that level of success," Marshall said. "What a debut he makes, coming to Wichita State and immediately going to a Final Four. Then following that up with a 35-0 start to a season."
Bardo and his wife, Deborah, sometimes watched practices in Charles Koch Arena. He met with recruits to help women's basketball coach Keitha Adams and volleyball coach Chris Lamb.
"He was always at women's basketball, at volleyball, at softball," Endicott said. "He played an integral part in recruiting a lot of athletes we currently have. It's impressive when a president will take time out of his busy day to meet with potential students. I think that goes a long way in the recruiting process."
Marshall, who came to Wichita State in 2007, said he can see Bardo's legacy throughout the university.
"To see all of the changes to our physical campus, as well as the changes in our student population on campus, has been phenomenal," he said. "When you walk on campus now at Wichita State, there is a different vibe. You see 10 times as many people as when I first came here. The changes have been eye-popping."
For Wichita State athletics, the changes put into motion by Bardo's ambition, innovation and curiosity are just as vibrant and important.