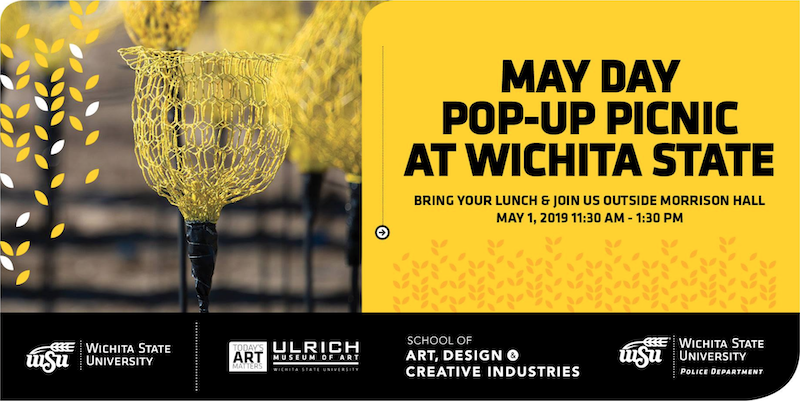 Wichita State students are planning a pop-up picnic with an artistic twist.
The May Day Pop-Up Picnic will take place from 11:30 a.m.–1:30 p.m. Wednesday, May 1, inside the Rhatigan Student Center on the WSU campus.
All are welcome: bring your friends, your kids and / or your dog. Picnickers may bring their own lunch or have a hot dog or veggie dog courtesy of the WSU Police Department.
The event, which will include music and games, was created and organized by students in Intro to Community & Social Practice, a studio art class.
"We hope to connect WSU students with the community to celebrate the beginning of spring," said junior Emilie Holler, a student in the class.
While at the picnic, guests may also take a "Wulip," while supplies last, for their personal art collection. Wulips are giant yellow-and-black flowers that students in the class fabricated last semester.
In addition to University Police, the class is also collaborating with the Ulrich Museum of Art to produce the event.
Community and social practice is a project-based art form that centers around community engagement. Wichita State is the only school in Kansas that offers a concentration in the field.