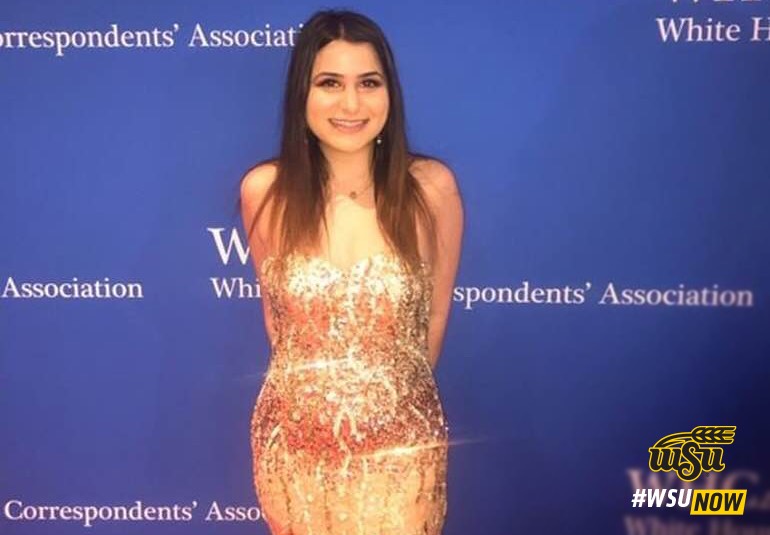 Taking advantage of opportunities has taken Alexi Abi-Mikhael exactly where she wants to be.

Alexi is one of more than 2,400 students eligible for spring 2019 graduation. Learn more about her time at Wichita State and what's next for the senior.
What is your degree in? I am a senior majoring in psychology.
What led you to WSU to begin with? It was convenient and close to home, so I did not have to go far. Also, financially it was my wisest option.
How are you feeling leading up to graduation? I am so excited to be done. I just finished my last paper today and I cannot believe that I am really done. Graduating is such a rewarding feeling because I've accomplished a life goal and I am on to my next one.
What has been your most helpful learning experience while a student at WSU? Honestly, the National Student Exchange experience. Not a lot of people know about it and it is what allowed me to go to the Virgin Islands. That is what allowed me to start my come up. That program is amazing and more students need to take advantage of it because you can go anywhere and be able to study. Even if you just go to a different state you are immersing yourself in a new culture and that is a very valuable learning experience. You meet a lot of people, learn more about yourself, and learn more about what you want to do because you are not in the same environment that you grew up in. Even if you grew up in Wichita and go to KU, you are still around the same people you grew up with, so leave Kansas. It's a really good program. It is the best thing that Wichita State did for me.
What was been your biggest challenge as a student, and how did you overcome it? Realizing that I need to take advantage of opportunities and actually doing it. Do not be nervous when looking for opportunities. Do not be scared to reach out to people and establish connections. Learn how the environment you want to work in interacts on a daily basis. Doing that helped me feel more confident in myself and the direction I was headed. I don't want to work somewhere that I will be miserable in. Trying out different things has allowed me to feel comfortable in my career choices.
What are your plans now workwise? I am going to try and keep my position now at the Administrative Offices of the United States courts for at least two years and then slowly go into my master's in psychology and find an internship in mitigation, which is using psychological and scientific reasoning to shorten people's sentencings, or if they are on death row it could take them off if they have a valid background. There are programs and legal offices everywhere for this and I would like to get into that and have that be my career eventually or get a position at my current job.
What advice would you give other WSU students? Take advantage of the programs that Wichita State has to offer. I took advantage of the National Student Exchange program and that is what brought me to my internship in D.C. It can really change your life. Also, they can help financially with a lot of stuff, making it easier for you to come out and just try something that you think you want to do instead of waiting until you are older and having to pay for it yourself. Experience as much as you can before you graduate so that by the time you are ready to graduate, you know that you are where you want.