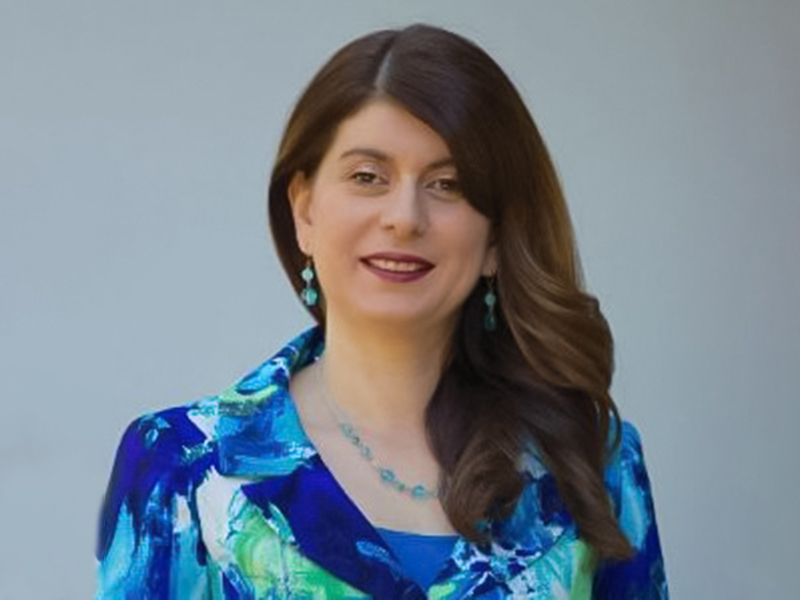 Larisa Genin (pronounced JENN-IN), associate dean of the School of Economics and Business Administration at Saint Mary's College of California, has been named dean of the W. Frank Barton School of Business at Wichita State University, effective June 17, 2019.
"In Dr. Genin's visits to Wichita this spring, and in discussions with those who have worked with her, we were impressed with her accomplishments, strategic approach, focus on student success, communication skills and vision for the Barton School," said WSU Provost Richard Muma, who appointed Genin. "Faculty, staff, students and members of the business community who met her thought she would be an excellent fit for the university and the city."
Muma said he has asked Genin to prepare to focus immediately on connecting the Barton School's faculty and staff to WSU's focus as an urban public research university by increasing enrollment opportunities and helping business and industry solve some of their most pressing issues.
Developing innovative curricular approaches and applied learning experiences for students, as well as raising money to support the Barton School programs, are additional priorities, Muma said.
Genin succeeds Anand Desai, who is retiring after four years as dean and 25 years in the Kansas public university system.
"I am very honored and excited to serve as the next dean of the Barton School," Genin said. "I am confident that together as a team, we can take the school to unprecedented heights of excellence, with special emphasis on applied learning and research."
"The WSU Foundation campaign's tagline, 'Shock the World,' resonates with me," Genin said. "I appreciate the donors who have provided strong financial support for a new business building, and I'm excited about working with students, faculty, staff and the business community to turn this vision into a launching pad for student success."
In her role as associate dean at her current school, she provides leadership in the areas of strategic planning, accreditation, enrollment, marketing, curricular development, student experience and success, academic standards and alumni relations.
Genin has been instrumental in co-leading the development and implementation of the school's five-year strategic plan, doubling undergraduate enrollment, redesigning academic programs, and strengthening the student experience.
She also successfully led the school's efforts in obtaining and maintaining accreditation from the Association to Advance Collegiate Schools of Business (AACSB).
Genin was a 2014-2015 participant in the American Council on Education Fellowship Program – a premier leadership development program focusing on preparing the next generation of senior leaders for the nation's colleges and universities.
Her scholarly interests focus on the areas of globalization, innovation, online marketing, personal branding and marketing education.
The Barton School of Business is home to the largest selection of AACSB-accredited programs in the state and is one of the few schools in the nation to have all of its undergraduate and graduate business and accounting programs fully accredited. Students have secured high-profile internships with companies such as Microsoft, Google, Koch Industries, the Mayo Clinic and the White House.