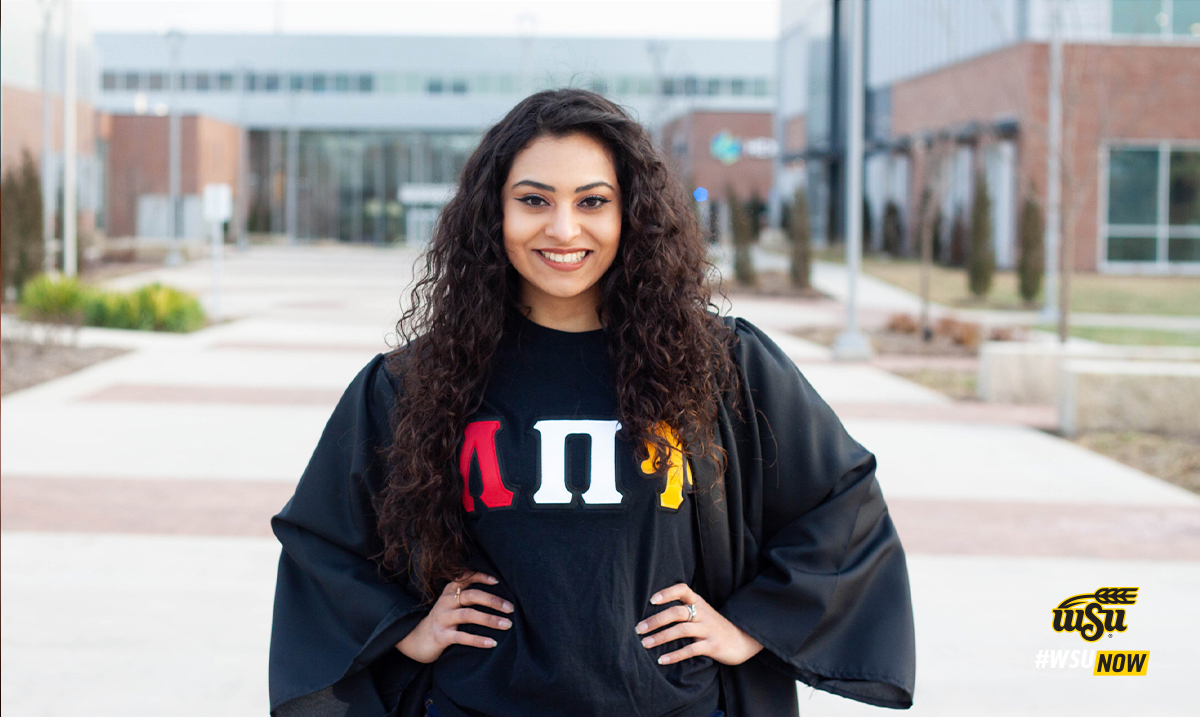 As a business major at Wichita State, Julisa Martinez has learned the power of networking.
Julisa is one of more than 2,400 students eligible for spring 2019 graduation. Learn more about her time at Wichita State and what's next for the senior.
What is your degree in? My degree is in Business Administration, with a double major in business management and human resource management.
What led you to WSU to begin with? For starters, my sister was already attending WSU for a few years prior to my graduation from high school. I was looking forward to going to school with her. I also knew that I wanted to go into the school of business, so it was very beneficial knowing that the Barton School of Business had an AACSB-accredited program. Lastly, I wanted to make sure that I would still be close to my family so that I wouldn't miss any holidays, special events or birthdays, so the campus' proximity was also what drew me in.
How are you feeling leading up to graduation? The countdown to graduation feels surreal! Four years went by so fast. I was able to be heavily involved on campus but there is so much more I wish I would have done and explored. Nonetheless, I am excited to be able to say that I have reached this milestone and cannot wait to see what my future holds.
What has been your most impactful learning experience while a student at WSU? The most impactful learning experience I have learned while a student at WSU is that connections are the key to success. One can study hard and ace the material, but a key component is to also network! Knowing the right people and asking for help when needed is what will help you get ahead in a career and life.
What was been your biggest challenge as a student, and how did you overcome it? My biggest challenge was trying to juggle so many things at once. At one point I was a full-time student taking 15 credit hours, working a full-time job, which amounted to 40-plus hours per week and also being the president for an interest group on campus. It felt like another full-time job, working with the National Board of my newfound sorority and the Wichita State Student Involvement Director, Nancy Loosle and Vice President of Student Affairs, Dr. Teri Hall, on opening the expansion at WSU so that my group of girls and I could bring a new Latina sorority on campus.
I managed to overcome this with my passion and internal drive to get things done. Time management was the key to being able to handle everything and succeed in every aspect. To not burn myself out, the following semester I looked at what mattered the most to me and decided to take a break from working so that I could fully focus my time and efforts into my education and organization.
What are your plans now workwise? Post-graduation, I plan on working as a human resource administration assistant and slowly move my way up to becoming a human resource director.
What advice would you give other WSU students?
Ask for help when you need it. Apply for that scholarship even if you don't think you will win. Many people do not apply for scholarships because they have that mindset and as a result, many scholarships are left with no applicants. Utilize your resources. Get involved and connect with like-minded individuals who strive to improve themselves and their community. Try something new and out of your comfort zone. Now is the time to explore and learn about not only yourself but the world and its different customs and cultures too.