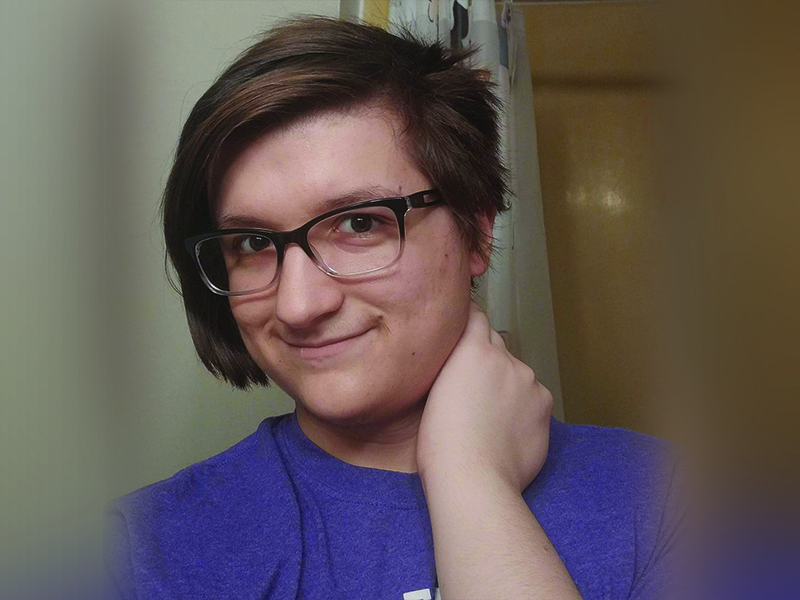 Some of Rexy Que's proudest moments at Wichita State involve the progress they made to help campus improve the experience of LGBTQ students. Now as they prepare to move on from WSU, Rexy is ready to continue taking on new challenges after they graduate.
Rexy is one of more than 2,400 students eligible for spring 2019 graduation. Learn more about their time at Wichita State and what's next for the senior.
What is your degree in? I am getting a Bachelor of Arts in Field Studies. My fields are music composition, political science, and statistics.
What led you to WSU to begin with? I came to WSU because I wanted to studying music composition with Dr. Walter Mays, who has been a faculty member here since the 70s.
How are you feeling leading up to graduation? I'm pretty excited to move on to the next chapter in my life. I have a job that really hits on my passions and where my team is always encouraging and supporting my own growth, both professionally and personally, a luxury most other non-binary folks unfortunately don't get. I'm also pretty hyped to have more time to relax, but I'm sure I'll end up filling it with other responsibilities quickly.
It's also pretty surreal. I was a very active leader on campus for the past four years, so I've been part of planning a lot of end of year events. Now all of these events are my last time attending them as a student and that's a bit mind-boggling. It's also really got me thinking about the progress I've helped our campus make to improve the experiences of LGBTQ students over the past four years, which just makes it even more surreal.

What has been your most impactful learning experience while a student at WSU? I had a lot of impactful learning experiences in the classroom, but I think I'll have to go with my leadership role in Spectrum: LGBTQ & Allies. I really learned a lot about helping others and working with others. I also was able to meet a lot of people that I wouldn't have met, and those connections have brought me so many opportunities to learn things you just can't teach in a classroom, like planning a conference for over 1,000 attendees. Most important though is that I really got to learn a lot about myself through the group, especially since I wasn't accepting of my own queer identity when I started college. I've grown a lot because of Spectrum and I wouldn't be where I am today without it.

What was been your biggest challenge as a student, and how did you overcome it? Realizing that what I came here to study was not what I wanted to do with my life. From my junior year in high school all the way through my sophomore year here in college, I was 100% certain I wanted to be a music composer. But during the summer after my sophomore year, I started to question if that path was the best fit for me. By November of that year I had decided that it wasn't, but it was really unclear what path was the right one. I spent a lot of time trying to find the right path for my education and I got really frustrated with myself for not knowing what to do and almost dropped out.
I got a lot more involved both on and off campus in different forms of activism trying to find what worked best for me, but there wasn't really any good fit. In September of 2017, I started working at the WSU Community Engagement Institute on a project doing policy analysis and I could tell almost instantly that this was the path for me. From that point on the path became much clearer and I felt like there was once again a reason to be a student.

What are your plans now workwise? I'm going to continue my job working at the WSU Community Engagement Institute doing policy analysis and software development. I'm really interested in how we can use technology to improve the way governments function, both in terms of making decisions about what to do and in realizing those decisions, and my current role is a good opportunity for me to build the skillset I need to do that kind of work. I would like to go to graduate school at some point in the future to study this topic more in-depth, but I want more real life experience before I do that, especially since it's still a bit of a frontier topic.

What advice would you give other WSU students? I really like the Office of Diversity and Inclusion's motto "lean into discomfort." We all have things we are uncomfortable with, academically, professionally, personally, etc. Rather than running away from the discomfort, we should embrace the opportunity to grow, and there is no safer place to do that than college. Nobody expects you to be perfect, and people are ready to help you back up when you fall, which isn't always the case when you get into the "real world." I believe this is the key to feeling like you got your money's worth out of college.