It's a bird. It's a plane. No, it's a drone.
Wichita State University students Spencer Lueckenotto and Will Valentine found drone racing their freshman year of college and instantly it became a hobby. But, neither of them dreamed that their passion would lead to the co-founding of Drone Club on WSU's campus.
"We had a passion for drone racing and wanted to share it with the university and community," Spencer said.
In October 2018, their idea was born, and drone club became a registered student organization. One year later, the club has permission to fly drones on campus, no easy task given strict flying regulations. The northeast side of campus has gates set up for practicing acrobatic maneuvers and races.
"It is fun to get behind the goggles and see what the drone sees from 80 miles an hour as it flies through the course," Spencer said.
The new school year brings an opportunity for the club to join the Collegiate Drone Racing Association. The association is in the early phases but allows universities and colleges to compete in traveling tournaments, championships and races.
As Drone Club reaches new heights, Spencer and Will have had to find creative ways to reach prospective members. This year, they will host "build nights," which are dedicated to students wanting to learn more about drones. The nights teach students all electronics, processes and programming needed to build a drone. By the end, students can walk away with a fully functioning drone ready for flight.
"Build nights are the most beneficial event to attend," Spencer said. "They show you how to start from scratch and end with a product ready to perform in the air."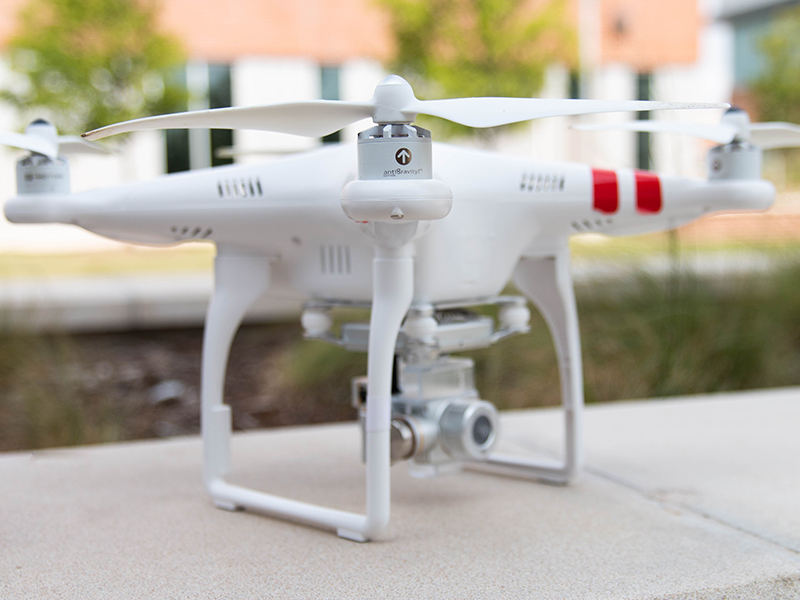 This is one of the drones the new WSU Drone Club uses for racing and taking aerial shots.
---
Perhaps, the most important part of Drone Club has allowed members the opportunity to explore different areas. Currently, a group of members are working on creating a hybrid-electric drone to be used in long-range endurance missions. Drone Club is not all racing and acrobatic moves, but rather a place to cultivate learning and hands-on experiences.
Eventually, the club hopes to develop efforts and plans to incorporate aerial photography and videography into memberships. As drones continue to soar in popularity, usage will move to more business endeavors rather than competitive racing.
"We have a drive and passion for creating something that isn't already out there," Spencer said.
Outside of campus, Drone Club is involved with local community organizations and businesses. ICT FPV, a local drone community provides advice, equipment and races for the community and club to participate in. Some employees of Airbus Americas, which has a location on campus, have also taken an interest in the club and students. Having Airbus employees present at races and meetings have paved the way for students to learn more about careers, drones and have networking opportunities.
With community help, Drone Club and WSU professors hosted the first drone camp for local high school students. During the week-long camp, students learned about drones and how to assemble them using cheap and affordable materials. By the end of the week, the drones were flyable.
"it was neat to see the progression in students, to get to watch them go from knowing nothing and see the final product," Spencer said. "It is important to partner with local schools to provide more opportunities related to STEM and cultivate talent at a young age."
Drone club meetings are held 6-8 p.m. every Wednesday at the John Bardo Center, formerly the Experiential Engineering building. The first half focuses on club agenda items and the last portion is dedicated to flying drones.
"If you want to come fly, fly with us."