Welcome back to Wichita State!
As you begin another year of school, you need to remember what is most important. Food. Good food.
For vegans like myself, it can be difficult to find good food, especially in Wichita. Luckily, as more and more people turn to veganism, more and more places offer vegan options. I know you can go to Walmart and get tofu and frozen meat alternatives, but sometimes you just don't want to cook.
In the last few years, several places in Wichita have embraced the lifestyle. Options are still limited, but they are out there. WSU even has some good options if you don't want to leave campus. They include:
Shocker Dining
You can always find something in the dining area located next to Shocker Hall. A lot of times that is salad or pasta, but they switch it up sometimes. WSU dining conveniently provides a daily menu that tells you which items are vegan.
The Market at GroundHouse
This is a sampling similar to what you can find in any convenience store. A variety of packaged foods line the shelves, including candy, chips and fruit, a few things you can always find that are vegan.
Starbucks
Just like any Starbucks, you can substitute milk for vegan alternatives. They also have vegan white cheddar Hippeas, which are delicious and remind me of Cheetos. My favorite thing to order is a bagel with their avocado spread. It's divine. I could eat only that for the rest of my life and be perfectly content.
Freddy's
You can't beat Freddy's fries. They are little shoestrings of happiness. To go with them, you can order a veggie burger. You can definitely tell it is a veggie burger, but it tastes pretty good. Just make sure you specifically tell them you don't want cheese. Every time I have ordered one "plain," it has come with cheese.
Pizza hut
I don't believe they have anything, but hopefully that will change.
Chick-fil-a
Waffle fries. Glorious waffle fries.
Panda Express
Chow mein. One of my favorites.
Shocker Sports Grill and Lanes
In the basement of the RSC, you can find a small selection of items. The obvious salad and fries are available. Unfortunately, their black bean burger is not vegan.
Fuzzy's
Fuzzy's just opened on campus in Braeburn Square. They offer your typical Mexican-type foods. Go for a burrito with cilantro lime rice, black beans (their refried beans are not vegan unless you ask them to leave out the shredded cheese), Latin fried potatoes and guac. Yum!
Food Truck Plaza
Most of the food trucks that show up are not vegan. However, Wheat Street Dogs and Consuelo's Street Grill have graced us with their presence before. Watch the schedule to find out when they will return.
Mega-Bytes
Located in the Experiential Engineering Building, Mega-Bytes offers more pre-packaged food. It has a slightly different selection than The Market. You have to have your student ID to get into the space, so make sure you have that.
---
If you are willing to venture away from campus, you can find a large selection of food. If you don't want the regular options like Chipotle or Taco Bell, here is a handy map that shows 10 places within 10 minutes of campus where you can get some tasty vegan food.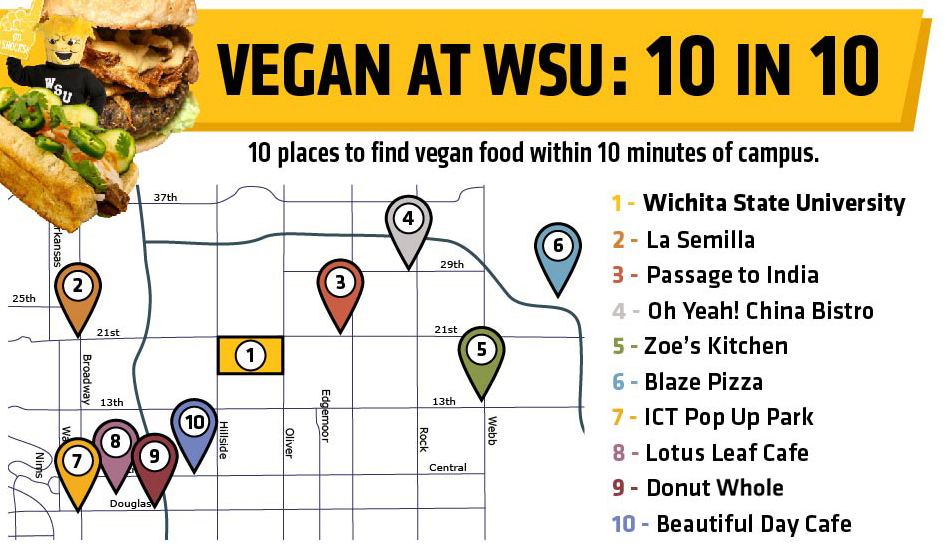 This completely vegan food truck offers authentic street tacos, gorditas, tortas, sopes and elote. The owners are extremely friendly and make delicious food. Check them out at the corner of 21st and Broadway.
One restaurant that has embraced the no animal craze, they have a completely separate menu just for vegan food. With vegetable coconut curry, yellow dal, chana masala and fried bread, you are sure to find something yummy here. Located near 21st and Woodlawn, this is one of the closest places to campus.
If you want some good Chinese, this is the place you want. They have soy nuggets and tofu that can be subbed for meat. Their menu even says you can ask your waiter about vegan options. I could totally go for some lo mein and sesame tofu right now. You are within 10 minutes of the location at 29th and Rock.
Zoe's Kitchen serves some crazy-good Mediterranean dishes. The baked falafel pita is amazing (just make sure to order it without tzatziki sauce or feta). Their hummus is also very good, but Meddy's, another Mediterranean spot in town, will always have the best, in my opinion. Zoe's is located in front of Whole Foods at 13th and Webb.
A pizza place with vegan cheese! I'm so thankful for them. I have been known to order crust with sauce on it from Pizza Hut and melt my own cheese on it at home. That is just way too much work. Thanks, Blaze! You can find them on Greenwich, halfway between 21st and 29th.
This cute little park in the middle of downtown Wichita often features one of three vegan food trucks. Wheat Street Dogs serves delicious, topping-heavy hot dogs. Kind Kravings usually has some type of burger (and cinnamon roll pancakes, yum). Nora's Kitchen offers pulled BBQ sandwiches and fancy salads. I recommend all of them. The park is on Douglas just west of Market.
This cute café has plenty of vegan options. From tacos to red pepper queso to sandwiches, you are sure to find something to satisfy your hunger. Check them out on 22nd street in-between Washington and Mosley.
A Wichita classic, the Donut Whole is a popular donut stop. They sell several varieties of vegan donuts on Wednesdays. You can't even tell they are vegan. Make sure to stop by mid-week on Douglas just east of Hydraulic.
Another place that has embraced veganism is the Beautiful Day Café. They have dedicated vegan breakfast burritos, bowls and French toast for breakfast. You can also try sweet potato curry soup, a veggie burger, pita wrap or grilled veggie sandwich.
---
The reviews are in: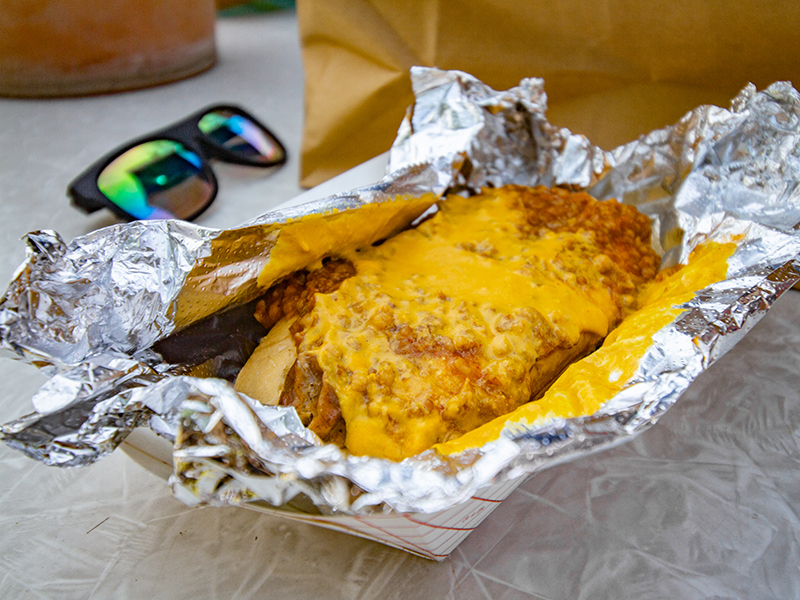 Wheat Street Dogs – Chili cheese dog
Pat and Judy know what they are doing. Their hot dogs are extremely flavorful and their toppings add even more deliciousness. The chili was wonderful, but their cheese sauce was the absolute best part. I would like to buy a gallon, please. 6 out of 5 carrots from me.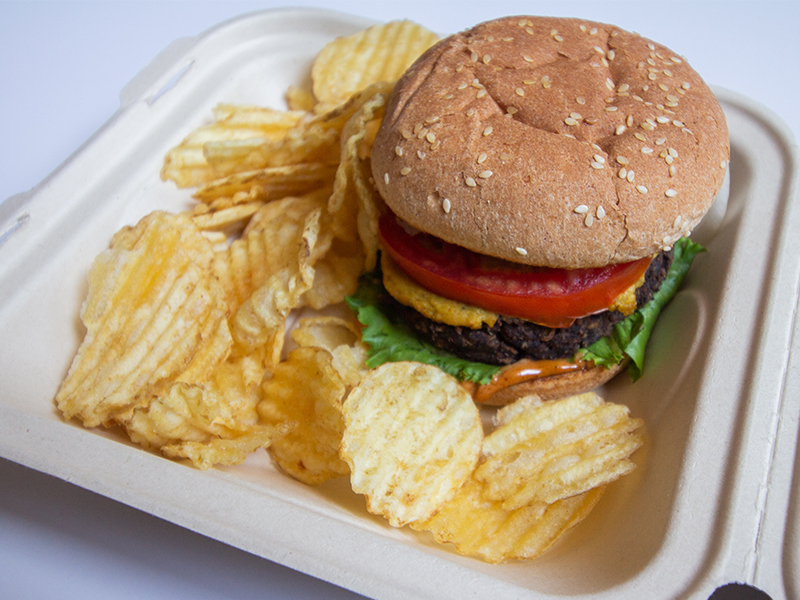 Kind Kravings – Chipotle black bean burger
This was a darn good black bean burger, especially with their cheese. I thoroughly enjoyed it. Not the best burger I've ever had, but it did not disappoint. 4.5 carrots.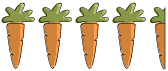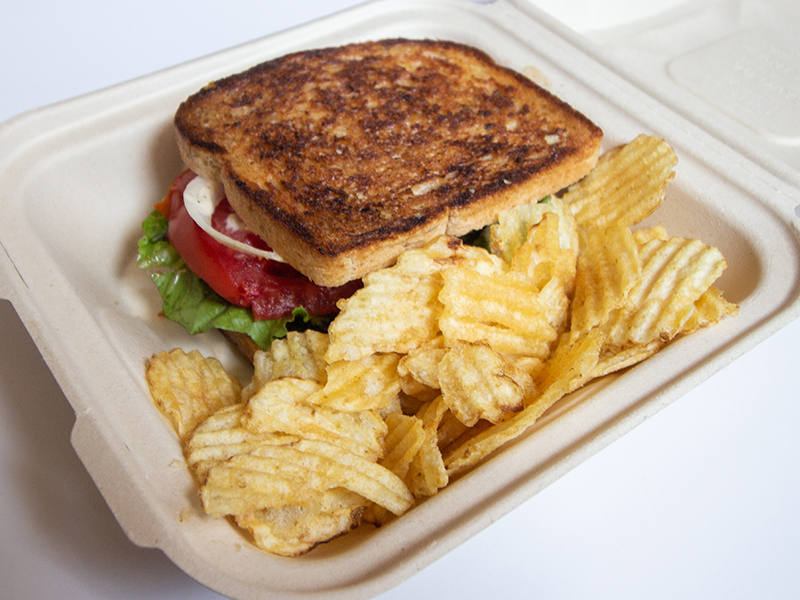 Kind Kravings – Grilled P.L.T.
This was just not for me. The flavor was fine, but it 100% tasted like I was eating a salad. I only ate half of it because it was too weird. It felt like I was eating a Caesar salad with a lot of croutons. If you love eating salad sandwiches, this is for you. If not, I would pass. 2 out of 5 carrots.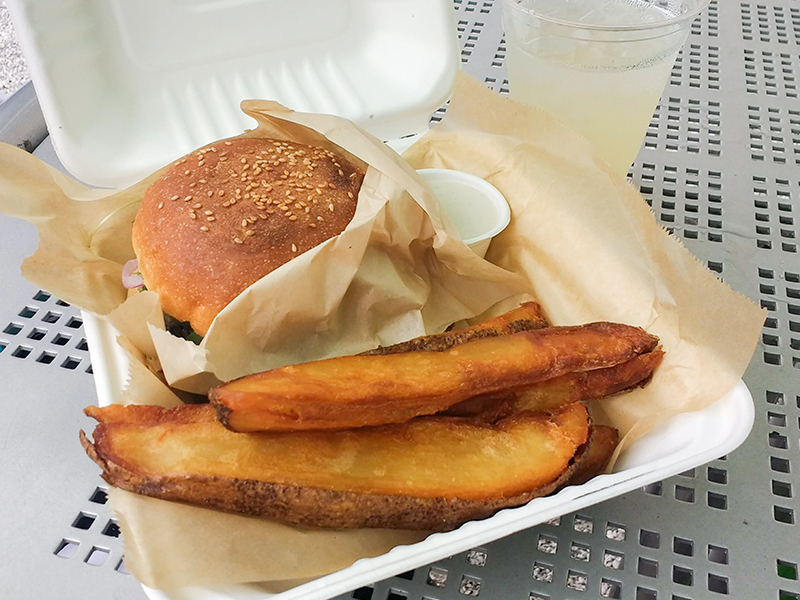 Nora's Kitchen – Classic burger
This burger was a little mushier than I would have liked. It definitely wasn't as good as the one from Kind Kravings. However, the fries and truffle sauce that came with it were magical. The burger itself earns 3.5 carrots, but the fries are a full 5.

/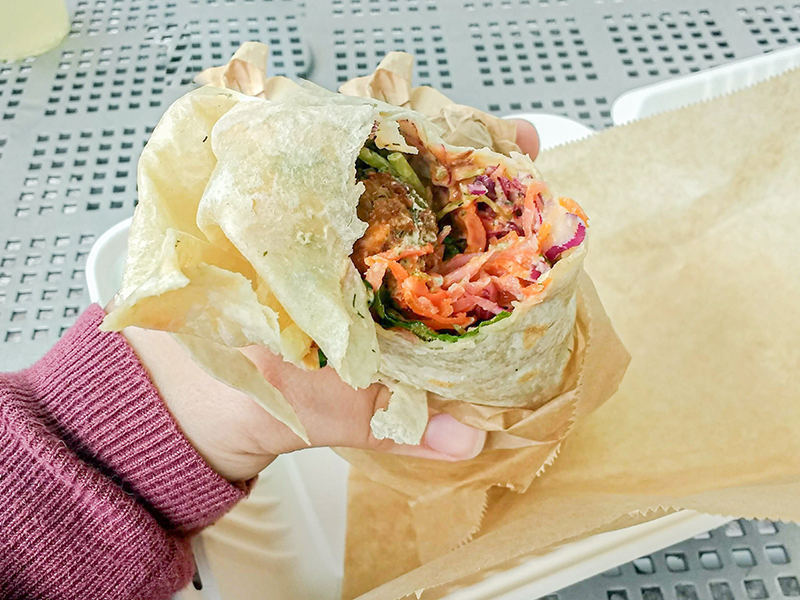 Nora's Kitchen – Falafel wrap
Let me tell you, I don't like cabbage or raw carrots, and this wrap had a lot of them. Let me also tell you that the sauce was out of this world. I ate the entire thing and I didn't even care about the veggies because the sauce made everything taste amazing. I don't know how to describe it. It was one of the best wraps I have ever eaten. 5.5 out of 5 carrots.

Go forth and eat vegan food (even if you aren't vegan)!


* This article is based on the opinion of one student and does not necessarily reflect the opinion of the university.