Since the 1930s, the high desert of California has been a haven for aviation pioneers. The wide expanse of arid desert makes for clear airspace and good weather for flying.
Aerospace engineering senior Khristian Jones joined their ranks this summer at the controls of a glider – a light, thin and unpowered aircraft towed into the sky by a regular airplane.
Behind her in the small flight deck sat Virgin Galactic astronaut and NASA space shuttle commander C.J. Sturckow.
"He just let me take the reins for a little bit and said, 'That's all you! I'm not touching the controls,'" Khristian said.
It was the incredible culmination of many experiences this summer, and a proof-of-concept for her aspirations to be an astronaut.
Khristian was one of a select group of women studying in the aerospace industry chosen for the Brooke Owens Fellowship. The fellowship provides paid internships and executive mentorship for exceptional undergraduate women and gender-minority students in aerospace.
Khristian interned at Mojave Air and Space Port in California under CEO and General Manager Karina Drees. Her task was reconfiguring the rocket test site to enable the safe testing of propulsion systems for companies wanting to use the spaceport.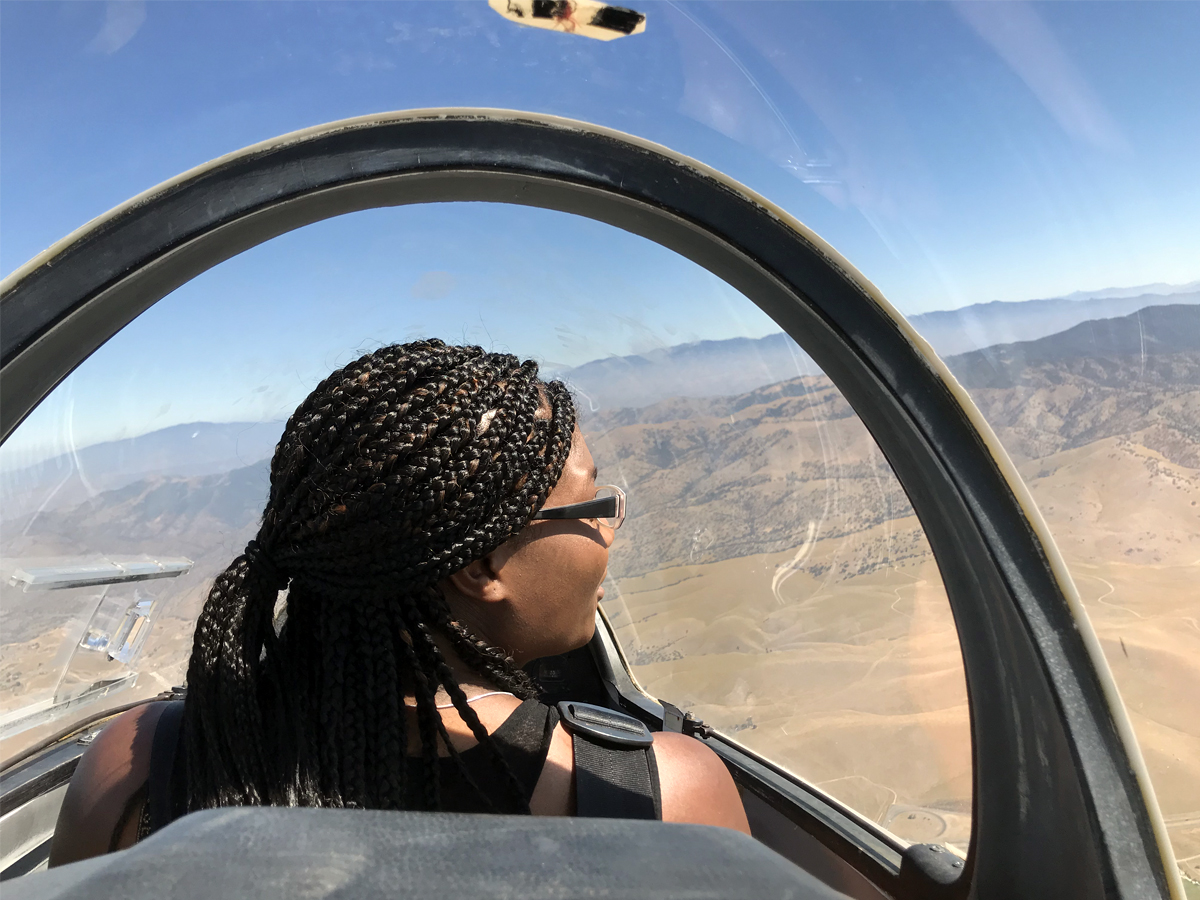 While Khristian felt prepared to enter the field, she learned a lot of valuable skills in the field that she may not have otherwise known.
"Really, it's on-the-job learning. It's things that can't be taught," Khristian said.
Drees gave Khristian the freedom to explore the spaceport and network among the 10 aerospace companies based there. The work allowed her to be herself and meaningfully engage with numerous people.
"It's OK to be you," Khristian said. "You can be an engineer and be fashionable. You can be an engineer and be social."
One day Khristian communicated with air traffic control officials about airspace requirements for test flights. Another day she rode out in a fuel truck to observe military aircraft refueling on the ramp.
The flexibility of the internship fits with her mission.
Khristian wants to bring companies and government agencies together under effective policies to expand the commercial space industry. During her time at Mojave, she came to recognize many obstacles that the commercial space industry will face as it emerges.
"I would love to be a part of the movement that's going to help regular folks like you and me get to space," Khristian said.
Among Khristian's most important policy objectives is making space accessible for all types of people.
Like so many others in the aerospace industry, Khristian is a pioneer. Her parents and grandparents struggled as African-Americans to enter certain industries, and she is grateful for the challenges and opportunities her heritage brings her.
I would love to be a part of the movement that's going to help regular folks like you and me get to space.
Khristian Jones, aerospace engineering senior
"It's a sense of pride for me and a sense of accomplishment. It gives me drive to continue to push for more and more people to enter the industry and make it even better than it already is," Khristian said.
She aims to support others as they reach for the industry as well.
In June, Khristian flew across the continent to Washington, D.C. to participate in the Brooke Owens Fellowship summit. There, she met a few key aerospace policymakers and executives.
The fellowship students in D.C. had an open Q&A session with NASA administrator Jim Bridenstine. She asked him about his vision for an all-women's mission and offered encouragement to fulfill it within the next decade
"There has never been an all-women's mission. I would really push for that. We can do it. We have to move forward," Khristian said.
Another important question currently being discussed in regards to space exploration is the inclusion of openly LGBTQ-A astronauts.
"Why not?" Khristian said. "I don't even think that should be a question. I have a shirt that says, 'space for everyone' from Virgin Orbit. It's one of my favorite shirts."
The week after Khristian left California to return to Wichita State for her final year of classes, the rest of the interns at the spaceport met Virgin Galactic CEO Richard Branson. She now has even more reason to return to the spaceport.
"100 percent, you want to get a wide range of experiences. I really enjoyed Mojave, I really enjoyed the company cultures that are out there and the innovation out there. Plus, I built a support system there."
Mojave Air and Space Port is home to multiple aerospace firms, including Scaled Composites Co. Scaled Composites is the manufacturer of Stratolaunch, the world's largest airplane, which made its first test flight in May 2019.
Other companies with facilities at the space port include Virgin Galactic and Virgin Orbit.
---
Learn more about aerospace engineering at WSU