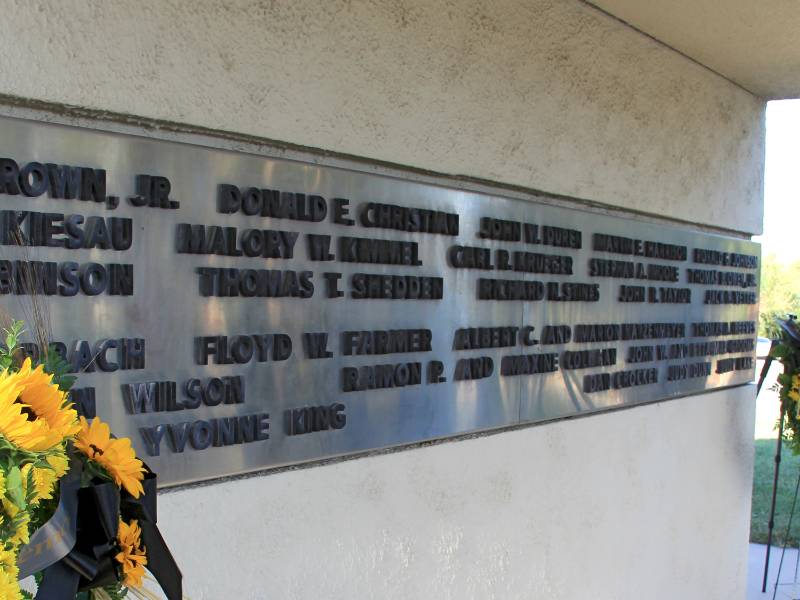 The annual ceremony of remembrance for those who died in the 1970 Wichita State University plane crash will be held at 9 a.m. Wednesday, Oct. 2, at WSU's Memorial '70, located near the 18th Street and Hillside entrance to the university.
The ceremony will honor the 31 WSU football players, administrators and supporters who died in the crash in the Rocky Mountains.
The university entrance at 18th and Hillside will be blocked from 8:30-9:30 a.m. Ceremony attendees will have access to the entrance near Koch Arena or at 17th and Fairmount near the Ulrich Museum. Parking will be available in the lot immediately north of Memorial '70.
A wreath will be placed at the base of Memorial '70, and there will be a time of remembrance to acknowledge the changes that the plane crash made in the lives of the victims, their families, their friends and the university.
The ceremony is open to the public. A reception will follow in the lobby of Duerksen Fine Arts Center, northeast of the memorial.
Those interested in making a tax-deductible contribution in memory of the crash victims can give to the Football '70 Memorial Scholarship, the only endowed scholarship at WSU dedicated in collective memory to those who died in the tragedy.
The scholarship is awarded each year to a student of any major with at least a 3.0 GPA who demonstrates financial need.
Contributions can be made through the WSU Foundation, 1845 Fairmount St., Wichita, KS 67260-0002, for the Football '70 Memorial Scholarship.
Contributions also may be made online.
Request to direct your gift to the Football '70 Memorial Scholarship