It's the living room of the engineering building in the Partnership 2 building on the Innovation Campus: GEEKS, a full-service tutoring lab for engineering students. The facility was started a few years ago from a grant used to increase success rates in students. From the start of the semester, GEEKS has been visited 1,043 times by students, an increase from the previous year.
In summer 2018, GEEKS was relocated and redesigned. The new location allows students to be closer to instructors, deans and the engagement coordinator. People are now coming to hang out and gather, along with tutoring. GEEKS is more connected with a focus on interpersonal relationships, amongst others.
"Students come to hang out at GEEKS, they aren't solely there for tutoring," Jacob Mendez, student engagement coordinator, said. "It's shifting from a full-fledged tutoring source to a place of gather."
Inside GEEKS, the undergraduate tutors provide support for over 50 courses in subjects including Aerospace Engineering, Biomedical Engineering, Chemistry, Computer Science, Electrical Engineering, Industrial and Manufacturing Engineering, Mathematics, Mechanical Engineering, Philosophy and Physics. The entry courses for engineering students are the most requested for tutoring. During the 2018-2019 academic year, the average GPA of students who utilized the facility was 3.12. Those who did not use GEEKS had a GPA of 2.96. While most instructors have limited office hours, GEEKS is open six days a week to assist. For most students, it's easier to approach classmates because they can relate to their experiences.
While some students struggle to ask for help, it's important to start. Using GEEKS allows you to gain a new tool for your mental toolbox. The environment is safe, supportive and serves as a connector to other students on campus. For one student, he went from being tutored to tutoring others.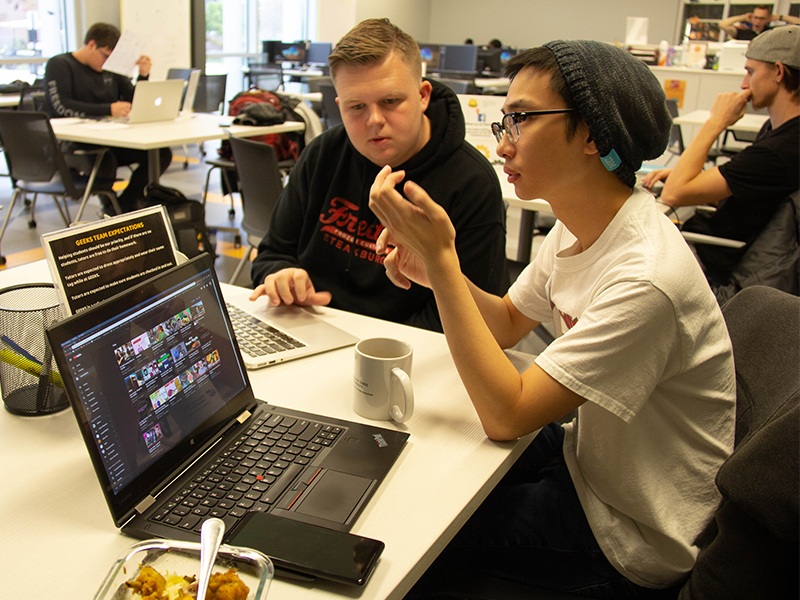 Student tutor, Dennis Pham, helps out a student at the GEEKS Tutoring lab.
---
Engineering major Dennis Pham started using GEEKS when a friend invited him to one of the study sessions. During his first exposure, he became friends with a tutor in charge. After that, GEEKS was his go-to hangout location.
"It's nice to surround myself with people smarter than me because they're all just normal people," Dennis said.
Through the services provided at GEEKS, it has made it easier for students to find study partners and make new friends along the way. Dennis stressed that it's not just for people who are struggling but those who are also doing well.
"Anyone can benefit by just being there and listening in to someone's lesson," Dennis said. "Learning from different people who have taken the same class from different instructors can provide even more information."
Tutors at GEEKS provide one-on-one tutoring and group tutor sessions. GEEKS is a free resource that yields a significant amount of success for engineering students. The turnover rate of tutors is high, something that Jacob is proud of. The students who use the facility are often recruited to jobs, internships and co-ops.
"GEEKS has helped many students gain confidence in themselves and excel at Wichita State and in the College of Engineering," Jacob said. "GEEKS is a safe space to meet new people, get help and create lifelong friendships."