Senior industrial engineering student Sydney Jaeger is making the most of her college experience. It's not always easy, but she finds a way to balance time as an engineering intern and student, member of WSU Cheer and a campus leader.
With an early interest in renewable energies stemming from her family's biodiesel plant in western Kansas, Sydney knew she wanted to go into engineering.
Coming to Wichita State was a unique experience for her, as neither of her parents attended college. Her father was a strong advocate for furthering her education, though. He encouraged her curiosity and pushed her to go to college. Sydney is grateful that he did because it has exposed her to so many great opportunities.
"In high school, I would look up at all of the successful college kids, and it was intimidating," she said. "I also didn't have parents in college, and if I can do it, you can do it. It sounds cheesy, but it's true."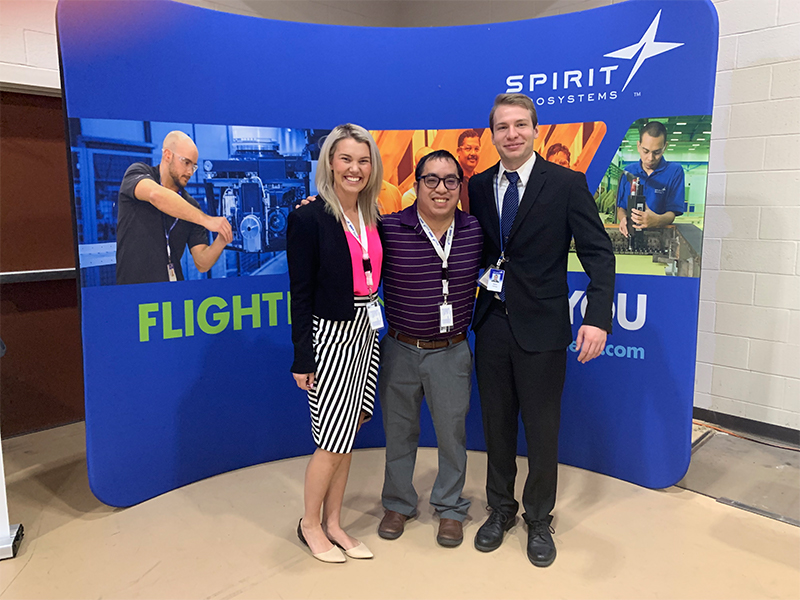 Over the summer, Sydney worked as a quality engineering intern at Spirit AeroSystems. She helped bring in new technologies that decrease the likelihood of passing a defect onto a customer, an essential part of the production process.
"I am kind of biased, but I feel like I got the coolest project there was," she said.
Sydney worked with special camera systems that monitor plane construction internally. The cameras help bring attention to defects and problems that might not be apparent by simply looking at the plane.
One of the systems she looked at takes individual images of tube bends and maps them together to form a 3D model. This makes the engineers' jobs infinitely easier when looking for flaws. She mentioned the technology to someone at Spirit's intern expo who took notice.
"Turns out I convinced one of the senior VPs that they needed it, and they decided to spend the money to make it happen," she said.
As the summer neared its end, Sydney took a chance and mentioned she would be willing to stay and continue working on a project she was already involved with, so the company would not have to hire and train someone new. Her confidence and self-advocacy paid off, and she is still working for Spirit.
At WSU, Sydney enjoys being a part of the Student Ambassador Society. She joined as a general member her freshman year, but recently decided it was time to take more of a leadership position and is now the vice president of finance.
"This position kind of came up out of nowhere, and I saw it as a sign that I need to take it," she said.
As a student ambassador, Sydney talks to prospective WSU students about the next steps for their education, whether that is attending WSU or something else. Being able to relate to the struggles that a lot of high school students are going through helps her connect with them in a profound way.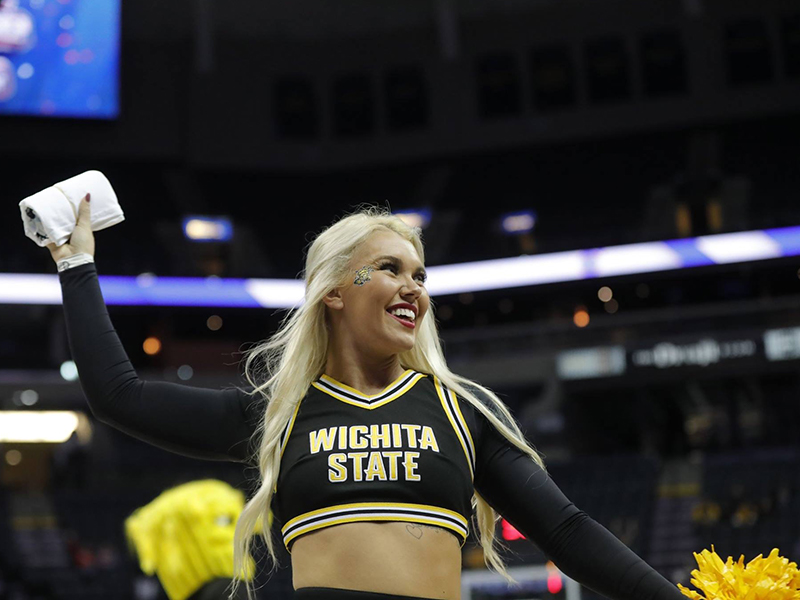 Sydney has also been a member of the WSU Cheer Team since her freshman year. She cheers at the home basketball and volleyball games, post-season tournaments, competitions and appearances around Wichita. Even though cheer takes a lot of time and hard work, Sydney loves the experience.
"I've been so lucky to travel to San Diego and Memphis," she said. "All of that hard work, all of those practices, then you get to go hang out somewhere new with your best friends. So, that has been special."
With so much going on, it is easy to get stressed and burnt-out. Sydney credits her successes to all of the people who have been there for her through the good and bad times.
"I just have so many people in my corner that I can go to at any time with any little struggle," she said. "I think it's the support system that you find that makes it all possible."
While college might not have been her first priority growing up, Sydney appreciates her time at WSU. She has made friends and memories that she cherishes, and has found a career path she loves.
"I feel like I have been blessed with all of the opportunities I've been given at Wichita State," she said. "You can be on the cheerleading team and still be a woman in engineering."
On top of everything, Sydney stills finds time to lead a women's bible study group every week. She doesn't know exactly how she gets so much done, but she offered some words of wisdom.
"Life is what you make it. Just make the best of it."