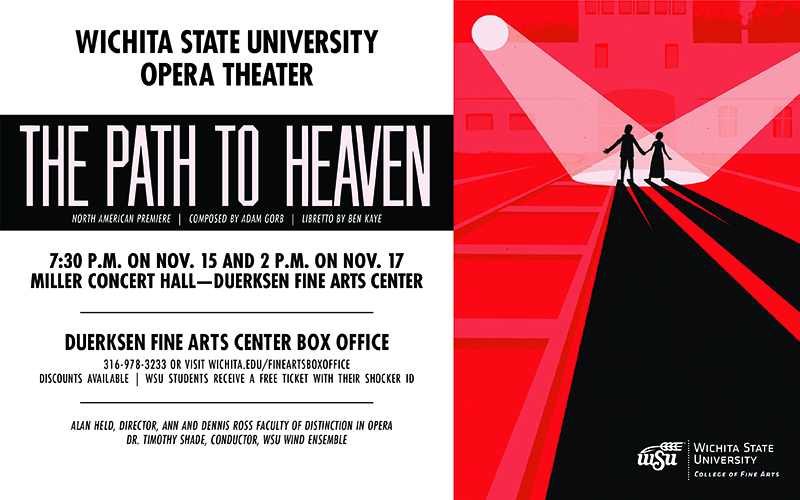 The Wichita State Opera Theater and the WSU Symphony Wind Ensemble will present the North American premiere of "The Path to Heaven" later this month. Showtimes are 7:30 p.m. Friday, Nov. 15, and at 2 p.m. Sunday, Nov. 17, in Miller Concert Hall, Duerksen Fine Arts Center.
The one-act opera tells the story of young people as they face the horrors of the holocaust, and how their lives were changed after the liberation of Europe. The piece is especially relevant given the recent 80th anniversary of the invasion of Poland and 75th anniversary of D-Day.
Alan Held, the Ann and Dennis Ross Faculty of Distinction in Opera, directs the WSU Opera Theater. Timothy Shade will conduct the performance.
The performance of this opera is significant in a number of ways.
It's semi-staged, meaning that it will use a limited number of projections, props and costumes. The opera will also include multimedia presentations.
While a full orchestra accompanies most operas, a smaller wind ensemble will accompany this one.
Contributors from across the world will arrive at WSU before and during the performance to witness its unfolding.
Adam Gorb, composer of the opera, will visit WSU from England during the final week of rehearsals to lecture, observe and share insight with student performers.
Performers also received input from a former docent of the National Holocaust Museum, as well as local Jewish community members.
Tickets are available at the College of Fine Arts Box Office, by phone at 316-978-3233 or by visiting the box office website at https://www.wichita.edu/fineartsboxoffice.
Discounts are available, and WSU students receive a free ticket with their Shocker ID.
Purchase tickets to "The Path to Heaven"