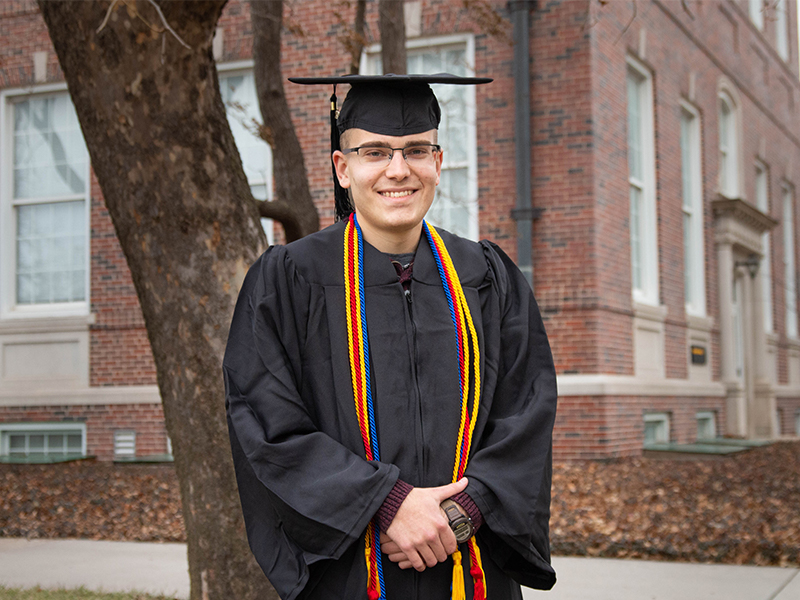 Andrew Martin has held many titles while attending Wichita State. He was the Director of Public Relations for SGA, served as a peer facilitator for the College of Health Professions and even has flown to new heights while getting his pilot's license. One thing is for sure, Andrew's no average Joe and wherever he lands, he'll soar.
Andrew is one of more than 1,100 students eligible for fall 2019 graduation. Learn more about his time at Wichita State and what is next for the grad.
---
What is your degree in?
I'm majoring in strategic communication with a minor in general business and an Emory Lindquist Honors Scholar track.
What led you to WSU to begin with?
I am a Shocker, like my father before me. ("Star Wars," anyone?)
How are you feeling leading up to graduation?
I'm a ball of nerves! I'm excited to turn a page or two in my life, but I'm also feeling some grief at the prospect of leaving behind me so many people and experiences I love here at WSU. It's like leaving home.
What has been your most helpful learning experience while a student at WSU?
Since almost day one, I have been a student and teaching assistant in Dr. Peter Cohen's adaptive leadership courses through the College of Health Professions. Those experiences have fundamentally changed my life. They've given me the self-assuredness I need to take risks and embrace discomfort as a necessary part of life.
What has been your biggest challenge as a student, and how did you overcome it?
I was never a risk-taker. I was never really willing to take chances on myself and what I really wanted to do in life, so I was stuck in a weird, unpleasant situation in which I didn't feel like I was moving anywhere. Last September I finally convinced myself to follow through with my dreams, and I received my pilot's license earlier this year. However, I'm definitely not finished with my flying goals yet.
What are your plans now workwise?
This is the other half of the story I began in the last question. I've rolled the big career dice and applied to the U.S. Air Force to be an officer and pilot. I don't know when I'll find out if I've been accepted or not, but I'm hopeful. If I don't get in, I'll be happy doing work as a public relations officer at a company somewhere nearby… maybe even at WSU. There are so many great options.
What advice would you give other WSU students?
Don't be afraid to go to college close to home and live with your family if you can; especially if you like your family. I've been able to prioritize my goals more because I have saved income. If I had been spending it on rent and other living expenses, I would have had other rich experiences, but definitely not the ones I value most now.