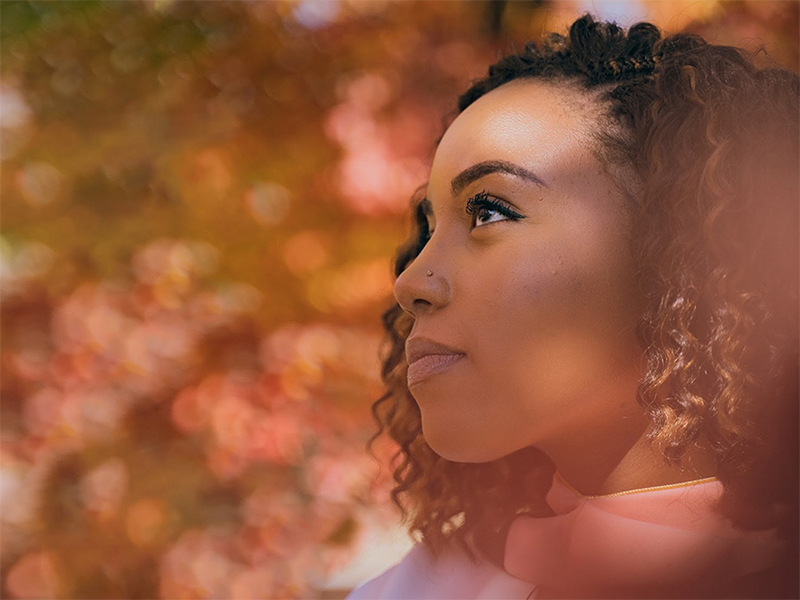 Gabrielle Owens surrounded herself with strong mentors she could look to when she doubted herself at Wichita State. She also took advantage of the opportunities offered through the Office of Diversity and Inclusion to successfully complete her master's degree.
Gabrielle is one of more than 1,100 students eligible for fall 2019 graduation. Learn more about her time at Wichita State and what is next for the grad.
---
What is your degree in?
I'm getting a Master of Arts in aging studies with a graduate certificate in public health.
What led you to WSU to begin with?
While in high school, I participated in a summer college preparatory program called Upward Bound Math & Science. Aimed to adequately prepare students for their upcoming academic year, we took classes and stayed on the WSU campus over the summer, while also participating in activities throughout the school year. When I completed the program, they graciously extended a one-year, full-ride scholarship to Wichita State, and I've been a Shocker ever since.
How are you feeling leading up to graduation?
I'm so grateful to even have had the opportunity to extend my education to graduate school. Graduation is such a sweet, satisfying feeling, and I cannot wait to cross the stage.
What has been your most helpful learning experience while a student at WSU?
I've learned quite a bit in the classroom, but I'd be remiss if I didn't attribute some of my success to the Office of Diversity and Inclusion. They provided tutors when I struggled academically, free printing when I couldn't afford to print my papers in the library, mentors, networking opportunities and everything in between. I'd encourage any and all students, especially of color, to utilize the resources ODI offers. It was literally created for students like to me to ensure personal and academic success.
What has been your biggest challenge as a student, and how did you overcome it?
There were a lot of times where I felt that I didn't deserve to be in some of the spaces I found myself in. I doubted my intelligence, among other things, which made school very difficult sometimes. I had to remind myself that I am more than qualified and worthy of the opportunities that were usually afforded to my peers. Surrounding myself with strong mentors of color who've been in similar spaces was essential. It was helpful to know I was not alone in my doubts and they did not define me.
What are your plans now workwise?
I've just accepted a position at Sunflower State Health Plan as a community health rep. That begins shortly before graduation. Community health is such an integral part of any society, and I'm very fortunate to be able to contribute to bettering the health of Wichitans.
What advice would you give other WSU students?
Your collegiate experience is what you make of it. If you go to class and go home, you'll get a degree. If you go to class, get involved and put yourself out there, you'll get an infinite amount more (and a degree!). Get plenty of sleep, have responsible fun and don't be afraid or ashamed to say no.