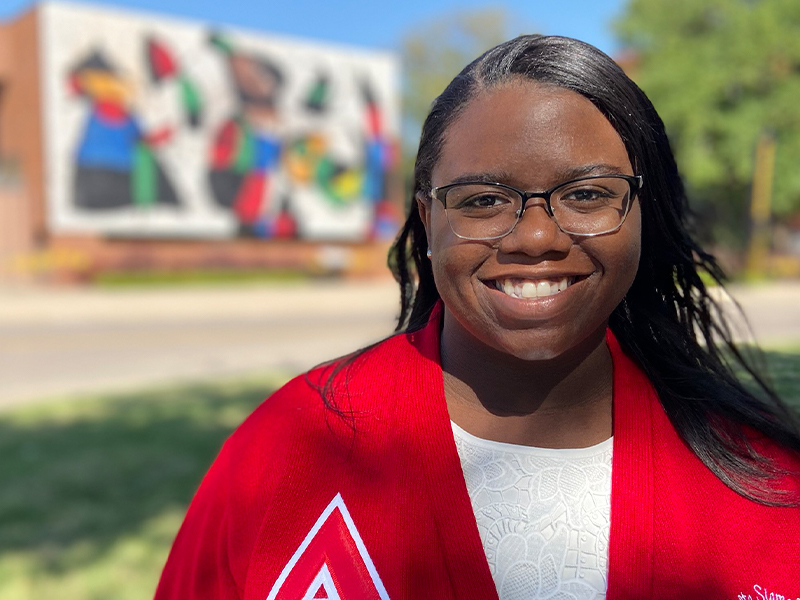 Madison Davis involved herself in multiple clubs and organizations while attending Wichita State. She took advantage of the different hands-on learning experiences and internships offered, which helped her grasp the concepts being taught. In January, she plans on attending graduate school and work as a Graduate Teaching Assistant.
Madison is one of more than 1,100 students eligible for fall 2019 graduation. Learn more about her time at Wichita State and what is next for the grad.
---
What is your degree in?
I will receive a B.S. in Criminal Justice with a minor in Psychology.
What led you to WSU to begin with?
I spent a lot of time on campus when I was younger as a participant of the TRIO Talent Search Summer Enrichment Program and visiting on numerous occasions while in high school. I knew Wichita State was a good school but, I was sure I wanted to go to college out of state. I visited a few other schools, but I was never satisfied with the student life, size, price or degree programs offered. I finally came to my senses and realized that WSU had everything I was looking for all along!
How are you feeling leading up to graduation?
I am elated! At first, I was anxious because I was unsure of what I was going to do next, but I recently decided to attend graduate school here at Wichita State, so it feels good to know that my time as a Shocker will not come to an end just yet. I am excited to begin the graduate program in January.
What has been your most helpful learning experience while a student at WSU?
I have learned that there are so many different ways to learn new things. Out of all of the classes I have taken here at Wichita State, no two have been the same. In some classes, I learned the most from listening to the lecture, and in others, I learned by applying the concept to my everyday life or taking a more hands-on approach. It has given me a new outlook on life and my ability to learn new things.
What was been your biggest challenge as a student, and how did you overcome it?
My biggest challenge as a student was managing my busy schedule. Between work, classes, having a social life, and being involved in multiple clubs and organizations, I was always overwhelmed by the week of midterms. I got so tired of this becoming a problem every semester, so I began allowing myself more free time in my daily/weekly schedule and prioritizing my involvement in extra-curricular activities. This meant changing my work schedule so I wouldn't work as many hours every week and deciding how much time I could actively give each club and organization I was a member of. Things change throughout the semester. Schedules change, life happens, and sometimes you need to rest. Make time for you.
What are your plans now workwise?
I will work as a Graduate Teaching Assistant when I start my Masters in January. Also, I will continue to work part-time at a local middle school and high school, so I will still have time to complete a few more internships.
What advice would you give other WSU students?
Work hard so you can play hard! It is so easy to get caught up in the social aspect of things and forget about academics. There is nothing worse than wondering if you will pass all of your classes a week before finals. Having good grades opens up so many doors when it comes to scholarships and membership in certain clubs and organizations. Start strong each semester so you can chill when things get hectic towards the end.